Best Tools for Your Work from Anywhere Office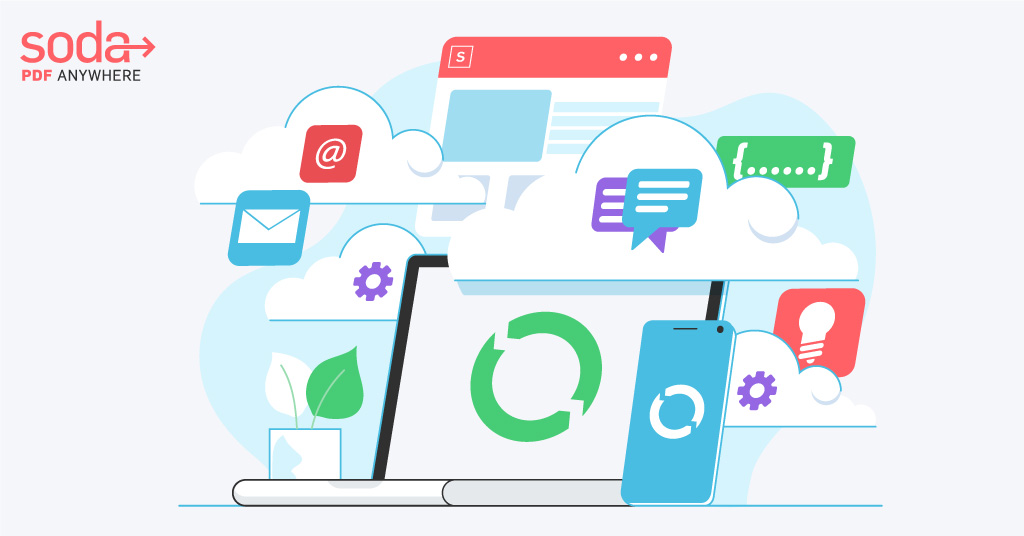 Looking for the top tools to use for increasing productivity while you work from anywhere?
As the world slowly opens up and returns to certain normalcy, teleworking is something that will ultimately usher in a new, remote office and work environment. While this shift is happening slowly, companies and organizations alike could save a significant amount of overhead by simply closing their offices and embracing this new "work from anywhere" reality.
So what can workers do to better prepare themselves for this inevitable shift in the workplace? Here's our list of the best tools you should be using for your work from anywhere office:
Soda PDF: The best document management software solution
Do you have difficulties organizing your documents in an efficient manner? Do you often have several, different file formats that all need to be compiled into one centralized document? Or perhaps you or your business are printing pages too often and are in desperate need of paperless document management software?
If any of these common document workflow issues sound all too familiar to you, you'll want to try Soda PDF.
With Soda PDF, you can easily merge various file formats such as Microsoft Word, Excel, PowerPoint files as well as image files into one PDF document.
Furthermore, Soda PDF's easy-to-use tools make modifying the layout, structure, or content of any PDF document a breeze. You can edit, create, convert, split, secure and even E-Sign documents all from this one simple software solution.
Best of all, Soda PDF is available via a Desktop application or Online software. Here's how they work:
Soda PDF Desktop (For Windows)
If you and your business mostly use Windows OS, then Soda PDF Desktop is the document management software you should be using.
Soda PDF Desktop has all of the PDF tools you need to get any document task done in seconds. You can edit the text within any PDF document without needing to use Adobe Acrobat. In fact, Soda PDF Desktop is a very popular Adobe Acrobat replacement.
Want to create fillable PDF forms? How about adding or tracking e-signatures in real-time through email? Need to create multiple documents from a page range of an existing PDF document? Soda PDF Desktop has all of these tools and much more!
Send documents via email directly from Soda PDF Desktop
One of the best features of Soda PDF is that once you've edited the document to your needs, you can easily share the newly modified document via email directly through Soda PDF.
Whether you're looking to convert to or from PDF, split pages into new PDF documents, create PDFs directly from your scanner, or you're in need of an OCR tool to quickly turn any image or scanned document into an editable file, be sure to use Soda PDF's easy-to-use software!
Soda PDF Online (For MAC)
If you're a MAC user, we suggest using Soda PDF Online instead.
Soda PDF Online has all of the powerful PDF tools you need, only without requiring a download. You can use the same features as our Desktop software, such as edit, convert, create, merge, split and compress tools.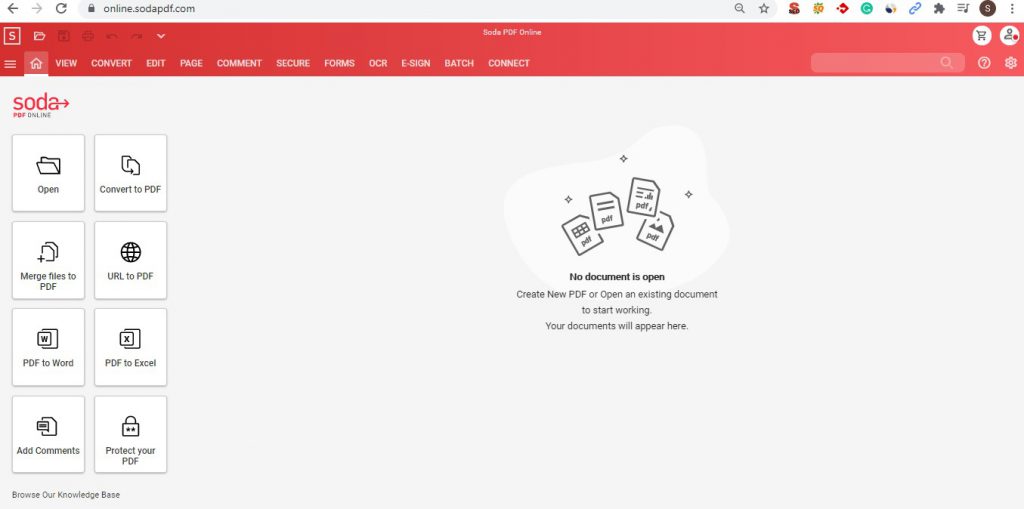 Simply open your web browser from any device with internet access and go to Soda PDF Online to enjoy our fully-featured software solution. You can work on your tablet or phone to quickly review or add comments such as sticker notes, pencil draw, or even add your e-signature to any PDF in seconds.
Track & manage documents requiring e-signatures using Soda PDF Online
If you're looking to add your e-signature to documents or perhaps looking for a way to track and manage e-signatures in real-time, Soda PDF Online can help you simplify the signing process from anywhere.
Simply open the PDF document you wish to sign in Soda PDF and then create and apply your e-signature. You can then use our E-Sign Manager to quickly add new signers to your document and send the file via email to gather their signatures. Best of all, you can send your signers reminders and track the progress of e-signatures via your email.
Online PDF Tools
Don't need a fully-featured, all-in-one PDF software? Do you prefer just using one tool at a time for quick document tasks? Soda PDF offers some FREE online tools for those who are looking for some quick web browser solutions to their document needs.
Use one of these powerful tools to quickly edit, merge, convert, split, resize or convert to PDF or from PDF to PPT, Excel, Word, image, or even an HTML file. Try them today, risk-free!
Try our FREE E-Sign PDF online tool for simpler signing ceremonies
Soda PDF is also offering its E-Sign PDF online tool for FREE, allowing you to create and apply your legally binding e-signature and send your document for others to sign all from our online tool.
Try our all-new E-Sign PDF online tool for FREE!
Slack: The best communication tool for sync-ups
Need a simple and effective way to communicate with your colleagues on certain projects? Are you sick of Skype's limitations or too many Zoom calls?
If so, we suggest you try using Slack instead.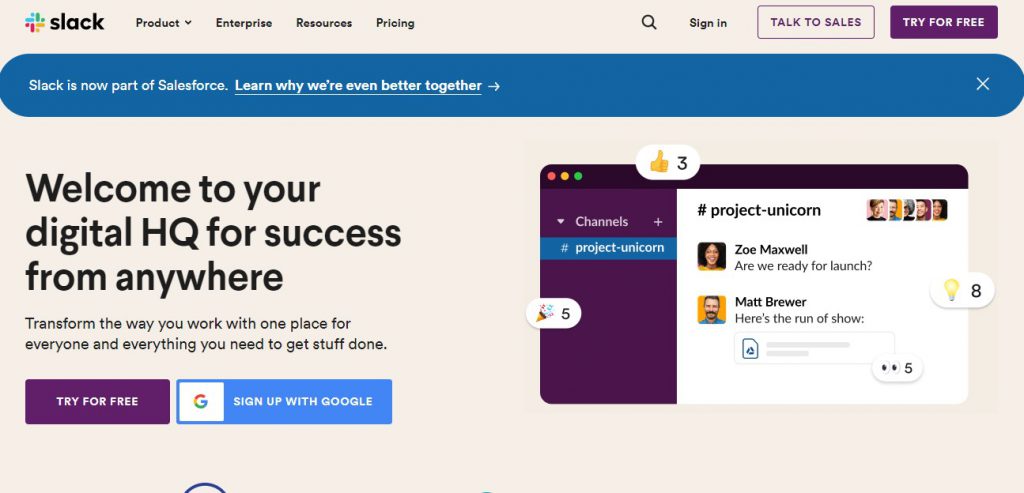 Slack allows you and your teams to create specific chat groups, allowing you to organize all of your graphic designers in one chat or perhaps your entire team in another. Need to quickly sync up for an upcoming project?
Simply title a new chat group as your project name and add the key team members you need to get the job done and start the conversation off on the right foot. Best of all, you can see when or who read your messages, allowing you to quickly identify whoever is, for lack of a better word, slack-ing.
Hive.com: The best project management tool for teams
Need an effective way to track the projects you and your team are working on? We suggest you use Hive, the most easy-to-use project management platform on the internet todya.
With Hive, you can create boards and assign tasks to your team members and keep track of their progress by having them upload documents or tag other team members for their parts.
Having a project management platform allows you or your project manager to easily map out their workflows and gives your entire team a visual representation of where their efforts are needed, and how everyone can chip in to help you each accomplish your tasks or bigger projects with ease.
Dropbox: The best cloud storage service for sharing & retrieving documents
Cloud storage services are highly important, especially when most of your workers are scattered around the globe or perhaps not all under one roof.
We suggest using Dropbox, the easy-to-use cloud storage service that allows you to easily store, upload, or even share your documents with others in just a few clicks.
You can create folders for your files, allowing you to easily organize your projects or documentation with all of the different file formats that you or your team will need remote access to.
Best of all, Dropbox is easily integrated with Soda PDF, meaning you or your team can open your documents within Dropbox and modify your documents using Soda PDF's easy-to-use tools. Simple yet effective, just the way we like our work to be!
Did you know? Dropbox selected Soda PDF to be part of its App Center
Dropbox and Soda PDF have been partnered for quite some time. Soda PDF has always allowed users to connect to their Dropbox accounts in order to easily save or share their edited documents.
Most recently, Soda PDF was selected to Dropbox's App Center where Dropbox users could easily access and download the top PDF editing software, Soda PDF Editor.
That's right, you can now easily access our fully-featured PDF Editor directly from Dropbox! It's just one of the many ways in which Soda PDF helps you accomplish your document goals from anywhere at any time.
Create an account & get access to our entire suite of PDF tools for one week!
Ready to get the powerful, easy-to-use PDF tools you need to increase your productivity and streamline workflows for good?
Create a Soda PDF account and enjoy full access to our entire suite of PDF tools with a FREE 7-day trial. Get a taste of our editing tools and enjoy using Soda PDF via Desktop or Online. Download Soda PDF Desktop or open Soda PDF Online from any web browser with internet access.
Review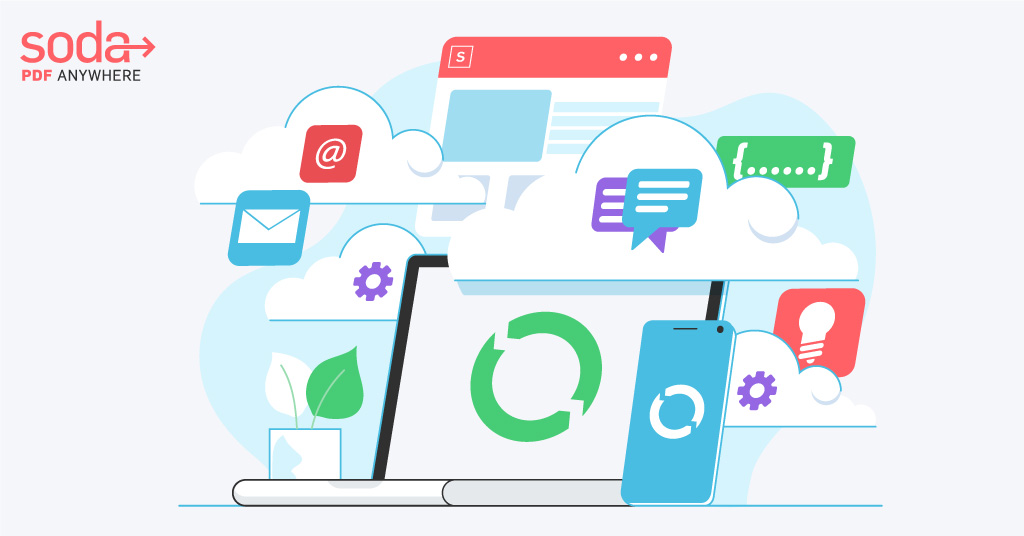 Blog Name
Best Tools for Your Work from Anywhere Office
Description
Best tools for working from anywhere. Check out Soda PDF's list of the best tools for your work from anywhere office. Sign & edit PDFs on Desktop or Online.
Author
Publisher Name
Publisher Logo