The 6 Best Web Browsers You Should Start Using Today (2020 Update)
Tired of constantly feeling like your web browsing is being scrutinized? Don't worry, you're not alone.
We've got you covered with our ranking of the best browsers of 2020.
We divided each into categories based on speed, privacy, usability, comprehensiveness, and operating system just for you.
You're about to see the internet through a whole new lens.
The Best Browsers Overview
Using a new browser is life-changing. Sometimes it feels like opening up a window into a parallel universe you never knew existed.
Only that universe protects you from cyber-criminals, doubles your browsing speed, makes chatting easier, and lets you browse without restrictions.
The only thing you'll regret is not having switched sooner.
We evaluated each browser based on these criteria:
Speed/Page Load Time: Hey, we're all impatient, right?
Navigation: Intuitive navigation is an absolute must. Internet Explorer, please go away.
Add-ons: Some browsers have add-ons that save you money at your favorite stores instantly. That's a huge plus.
User Experience: A clean, intuitive, eye-pleasing interface might be the most important feature aside from speed.
Mobile: If a browser saves your data, improves mobile browsing, and even lets you share media offline, it's a big plus.
Here's a quick overview of our favorite web browsers so you can jump to whichever you like best:
Without further adieu…
The Best Web Browsers of 2020 By Category
#1 – The Best Web Browser: Opera
Opera is our pick for the best browser of 2020, and it won by a landslide.
Opera is the anti-Internet Explorer. No other browser has its combo of speed, privacy, and user experience.
Opera uses WAY LESS capacity than the typical browser, helping it load web pages faster than Chrome or Explorer.
Check out some of these features:
Browse in complete security: Built-in ad-blocker. Built-in VPN. Your browsing is completely safe. The CIA… er… "your employer" will have no clue what you're doing.
Have it your way: Opera is insanely customizable. Dark theme, light theme, keyboard shortcuts, BUILT-IN CURRENCY CONVERTER – it has it all.
Chatting made easy: Whatsapp and Facebook Messenger are built directly into the sidebar so you don't even have to switch tabs to chat.
Pretty cool, right?
Pros
Pros
Built-in messenger apps
Super-fast browsing
Free VPN
Highly customizable
Cons
Cons
We didn't like Light Mode
#2 – The Best for Mac (and Runner Up) – Google Chrome
Google Chrome is nearly as secure, fast, and fun as Opera, but it's not quite there.
Opera might be the best, but Chrome is definitely the world's most popular web browser.
No other browser is as simple and aesthetically pleasing. It actually makes browsing fun rather than a chore.
Chrome's biggest advantage is its community, though.
The extension library is never-ending. VPNs, eCommerce hacking, instant savings, productivity optimizers – it's all there at the click of a button. Once you install an extension, it's available in the top corner (some work automatically).
We gave it the nod for "best browser for Mac" because it actually had comparable speeds to Opera when tested on MacBooks.
Pros
Pros
Never-ending extension library
Beautiful UX
Fast and secure
Cons
Cons
Not as fast or secure as Opera
#3 – The Best Browser for Mobile – Opera Mini
Opera's little brother for mobile is the last browser app you'll ever download.
You can actually browse fast, even on slow connections. The built-in "compression mode" saves up to 90% of your data (why does data cost $10,000 now?) while simultaneously speeding up your browsing experience.
That's a pretty good deal if you ask us.
But now for the real reason this is the best mobile browser: OFFLINE SHARING.
Opera Mini was the first browser that let you send and receive files WHILE OFFLINE.
Say you want to share music, videos, or social media statuses with your friends. Opera Mini creates a temporary private network between you and nearby devices, then generates a QR code. All your friend has to do is scan the QR code to receive the file. No internet or data needed.
Pros
Pros
Fast and secure
Same features as Opera for desktop
Offline file sharing!
Cons
Cons
Not as customizable as Opera for desktop
#4  – The Fastest Web Browser – Vivaldi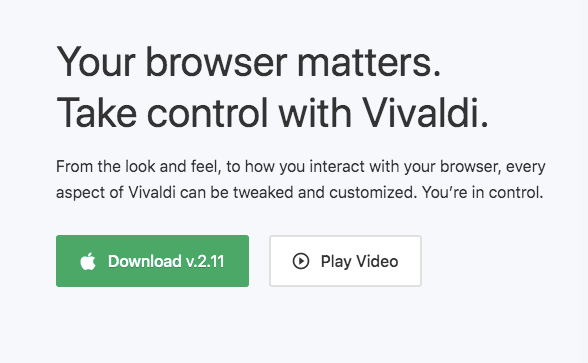 Vivaldi is the impatient person's web browser.
It's literally a blank slate that you can bend to your every whim. The adaptive interface lets you adjust the size, color, and position of nearly every element. And you can even position your tabs anywhere you want (if you're super OCD like we are).
It even has a split-screen mode!
But where Vivaldi ranks head and shoulders above the rest is speed.
Opera and Chrome have more features and better overall performance. But no other browser matched the speed of Vivaldi. It was literally greased lightning.
Pages opened as near to instantly as physically possible.
Vivaldi 1.0 had a ton of issues. The recent upgrades have changed everything. Pages loaded in split seconds even with multiple tabs open.
Pros
Pros
Fastest browser on the list
Tons of customization options
Cons
Cons
#5 – The Most Secure Web Browser – Tor
Tor is the ultimate defense against surveillance, tracking, and censorship. Browse anything at any time without worrying about who's watching or selling your data. Nothing gets past Tor. And Tor gets you past everything.
Here's how it works…
Tor isolates every site you visit, meaning 3rd parties, governments, or advertisers (and their ads) can't track you. Once you're done, Tor clears your cookies and history automatically.
It's like your browsing session never existed.
Tor also totally cloaks your browsing session. Think of it like wrapping you up in a big, protective Tor blanket. Normally, others can see your browsing activity as well as what you're typing/information you enter. With Tor, all they can see is that you're using Tor. You're totally protected!
Tor also lets you browse anything at any time since it can bypass any firewall and circumvent censorship. Even if your network BLOCKS a site, you can visit it with Tor.
Pros
Pros
Visit anything at any time
Block trackers
No ads
No 3rd-party observers
Cons
Cons
Speed and functionality aren't as good as Opera or Chrome
#6 – The Best and Coolest Browsing Experience: Brave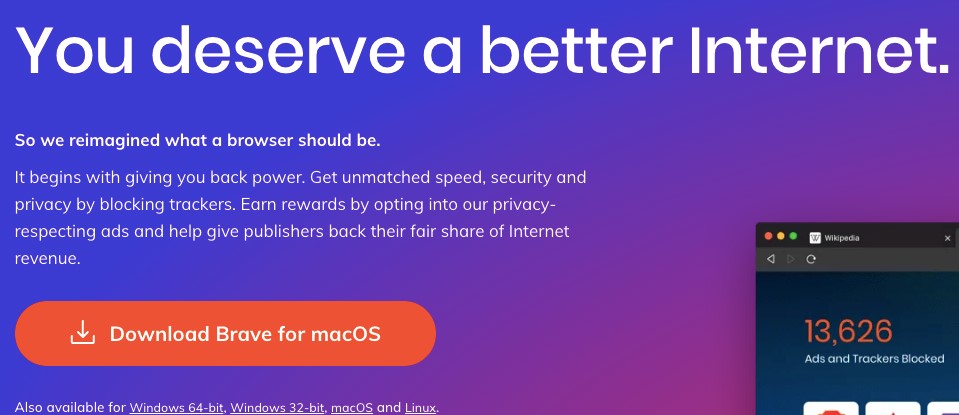 Brave thinks we deserve a better internet. Thanks, Brave.
This browser is totally rethinking the way we use the web, and it's unlike anything you've ever seen.
Let's just get this out of the way first: Brave loads about 3x faster than Chrome or Firefox (according to them).
That's because it's uber lightweight. There's nothing to install or manage.
But the real reason it's on this list is the cool economic model it promotes. Brave uses a rewards system that awards both you and creators with "payments'  based on your browsing habits.
Here's how it works…
With your old browser, you "paid" by giving 3rd parties your information and looking at their annoying ads.
With Brave, the browser awards you tokens while you browse. Don't worry, everything is tallied locally on your computer.
At the end of the month, Brave automatically distributes the tokens based on the amount of time you spent on each site. If you don't like a site, just remove it from the list.
Pretty cool, right?
Pros
Pros
Cool rewards system
Lightweight and fast
No ads
Cons
Cons
Not as many features as Opera or Chrome
A bit of a learning curve
The best web browser comes down to what you hope to get out of the internet. Do you want to block ads, circumvent censorship, and change the world? Or, do you want the best browsing experience with the most add-ons?
Opera is the best overall browser with the best experience, most features, and most convenient chatting experience. But let us know which one you choose!
Frequently Asked Questions
Q: What is the Best Web Browser of 2019 and 2020?
A: The best web browser of 2019 and 2020 is definitely Opera. The built-in VPN, chat apps, speed, and functionality are unrivaled.
Q: Which Browser is Best for Streaming?
A: Hard to say what the best browser for streaming is, but it's most likely Opera, especially when considering the built-in VPN. Next would be Vivaldi for the speed.
Q: What Are Alternative Browsers?
A: Alternative browsers are any browsers that aren't the default browser on your phone or laptop. The most common examples are Opera, Vivaldi, and Brave.
Q: What is the Best Browser Other Than Chrome?
A: Our pick is Opera. If you haven't tried it yet, you HAVE TO. It's better, faster, more convenient, and more customizable than Chrome.
Q: Why Should You Not Use Google Chrome?
A: Google Chrome is a great browser, but there are a few security issues, and it doesn't have many customization options. If you want a more secure browsing experience and want more options for customization, go with Opera or Vivaldi.
Q: What is the Safest Internet Browser?
A: Tor the safest internet browser. It's more secure than Fort Knox and tougher to crack than adamantium.
Q: Which Web Browser Uses the Least RAM?
A: Opera is by far the most efficient web browser.
What's The Best PDF Editor For My Browser?
Now that you've discovered the best web browsers you should be using, it's time to talk about the best PDF editor to use in your browser. Or on your desktop, should that be your preference.
Obviously, we're talking about Soda PDF. It's a fully functional PDF software solution full of easy-to-use tools to help you make the most of your docuements.
Whether you're looking to edit PDFs, create them from scratch, convert, merge or even split pages, you can do all that and more from the comfort of your web browser or desktop.
Discover the power of Soda PDF today with a FREE download of our desktop app. Or,  try out our various online tools for making quick modifications to your PDFs from the comforts of your new 2020 primed web browser!