Christmas Shopping Checklist – How to Shop This Holiday Season
Sale season is upon us and the holidays are near. You can already smell the gingerbread cookies and peppermint candles. What's that sound? It's the sound of children ferociously tearing into the gifts that you spent a week searching for and eight hours wrapping.
Christmas shopping can be stressful, but it doesn't have to be. With sale season in tow, it's the perfect time to take advantage of some great deals and get all the gifts out of the way. To help you out this holiday season, we're bringing you an easy Christmas shopping checklist to help you find the perfect gifts for your loved ones while saving money and time!
From preparing your bank account to scoping out the best sales, we're going to cover everything you need to prepare for holiday shopping.
So, follow our holiday shopping checklist for a stress-free shopping spree this year!
The Christmas Shopping Checklist
Click on the image below to view the ultimate checklist for your all your shopping needs this holiday season.
You can easily customize and edit your checklist in Soda PDF. Add the names of everyone you're buying gifts for, jot down gift ideas, and plan out your shopping trips!
Get shopping and start checking items off your list! You can bring the checklist with you by printing it out, or by viewing it on your mobile using Soda PDF.
For another way to save during the holidays, check out our post on the Best Money-Saving Apps for Christmas 2018.
How to Create a Christmas Shopping Checklist in Soda PDF
You can download and customize our Christmas shopping checklist, or create and customize your very own using Soda PDF.
Watch our video tutorial below to learn how to create your own checklist:
We'll even break it down for you here:
Download Soda PDF Desktop or use the Soda PDF web app.

Open Soda PDF and start from a 

blank

document.
Go to the Edit tab in the top ribbon bar and enter a title with the "Type Text" feature.
Using the same feature, add a list of all the items you need. If you want to be fancy, you can create sub-groups too.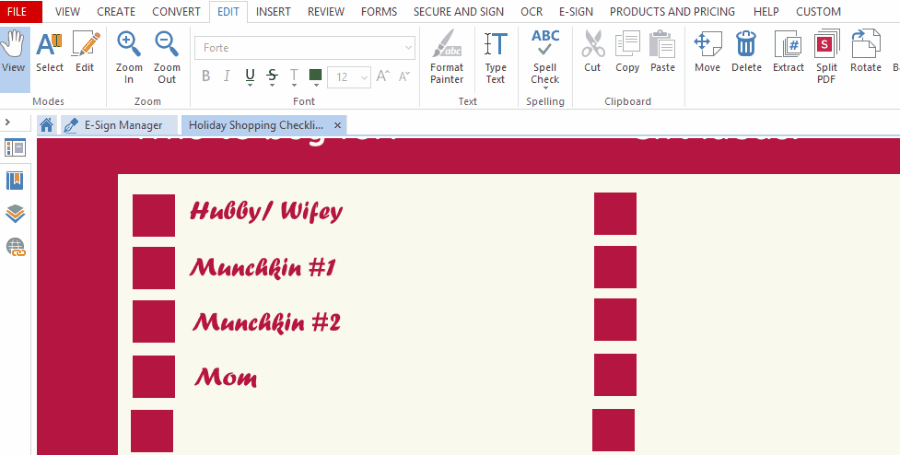 Add a checkbox next to each item by going to the Forms tab and selecting "Check Box"
Once you've finished customizing your checklist, save your PDF file on your desktop or save it to your cloud folder. Soda has built-in Dropbox, Google Drive, OneDrive, and Box integration.
Follow your checklist and start shopping!
Tip: If you prefer creating your Christmas shopping checklist in Microsoft Word, you can then simply convert your Word to PDF and add the checkboxes as you go. Learn how to convert from Word to PDF here.
Pro-Tip: If you want to further customize your checklist, use a site like Canva to find free templates and add various other design elements!
Now that you have your Christmas shopping checklist, you can finally have fun during the holidays, without all the stress! There's no need to worry about forgetting anyone's gift this year.
Check out our other checklists:
Travel Packing Checklist: What to Pack on a Trip
The Ultimate First-Time Home Buying Checklist
Real Estate Transaction Checklist: How to Close the Deal
Download Soda PDF to view and create your own checklists!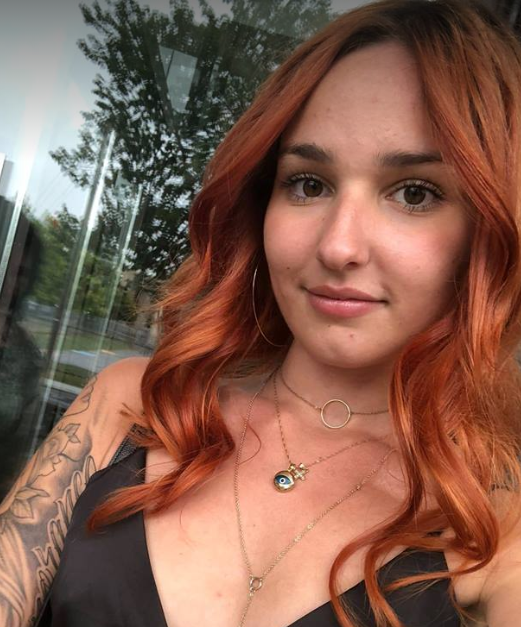 Alyssa is an English Literature graduate and the current copywriter and social media content creator for Soda PDF.