The Best FREE Antivirus Software 2019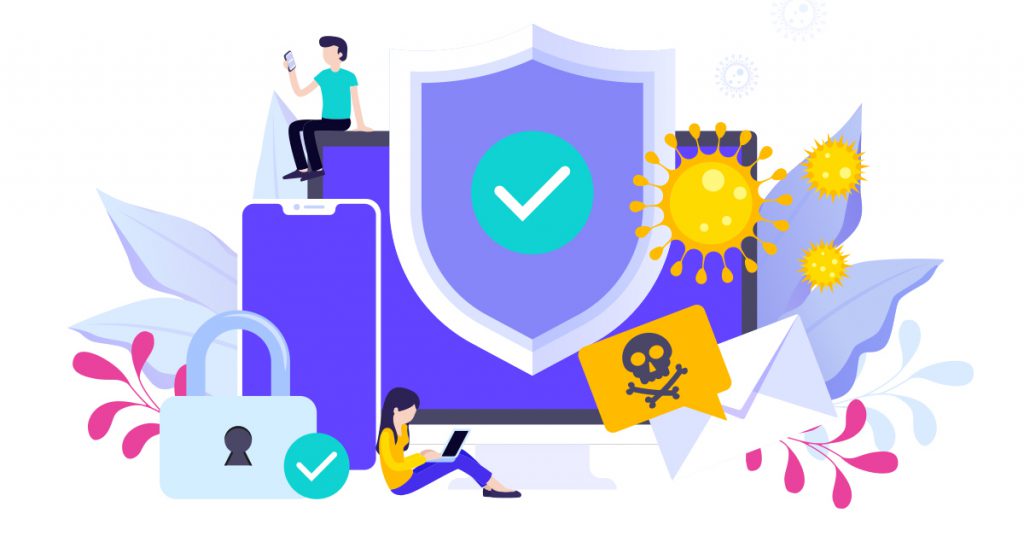 You can't rely on Windows Defender to keep you safe anymore. Not when malware and phishing schemes keep evolving. If you don't get one of the best free antivirus software available, it's not a matter of IF but WHEN you fall victim to an attack.
We tested a dozen antivirus programs, and these 7 performed the best in our hands-on testing. Don't worry, a fast and free download is all that separates you from browsing, shopping, and chatting with 100% peace of mind.
Avast and Adaware Free TIED in our testing. When combined with lab results, we couldn't distinguish between the two. Read up and make the decision for yourself.
The Best Free Antivirus at a Glance
The best free antivirus software of 2019 are:
Plus one secret bonus that we HAD TO include!
Some of these programs are more comprehensive than others, but all of them provide lock-down protection for:
Shopping
Banking
Chatting
Browsing
Each of them has the power to root out existing malware (The bad guys that cause damage to your computer), but the absolute best (#'s 1 and 2) provide real-time protection from ransomware (The really bad stuff), botnets, Trojans, and a lot more via bonus features.
Some even take the offensive and fight back against the bad guys by protecting you from phishing schemes and visiting potentially harmful sites.
Tied for #1 With Adaware: Avast Free Antivirus
Pros
Perfect score on AV's (The Independent Security Institute)

protection test

Proactively scans to prevent issues before they arise

Built-in password manager

Blocks fraudulent sites to prevent phishing

Bonus features for advanced users
Cons
Advanced features are confusing to new users

Auto-blocking can be annoying in many cases

Did not score as well as Adaware in our hands-on testing

Avast is the best antivirus software of 2019, the winner of the AV Product of the Year 2018, and the most popular PC security program in the world. Yet still somehow tied with our next entry (Check out why next).
Download and setup are quick and easy, and once you're set up, protection for shopping, banking, chatting, and browsing is effortless. Check it out:
Just choose run as administrator. Then, click yes to allow the app to make changes to your device.

From there, simply click Install:
From there, you only have to agree to the terms to finish up. 
BONUS: You can even protect your mobile device with Avast! Pretty sweet!
And unlike most antivirus out there, Avast is proactive at protecting your wallet and identity from phishing attacks, so you don't have to sweat while online. It does this by steering you away from or outright blocking sites known for phishing.
No other program comes close to outperforming Avast in-lab, but our second entry – Adaware Free – actually outperformed Avast in our hands-on testing. And since we trust our eyes more than a lab's results, we decided to end this in a draw.
#1B – Adaware Free Antivirus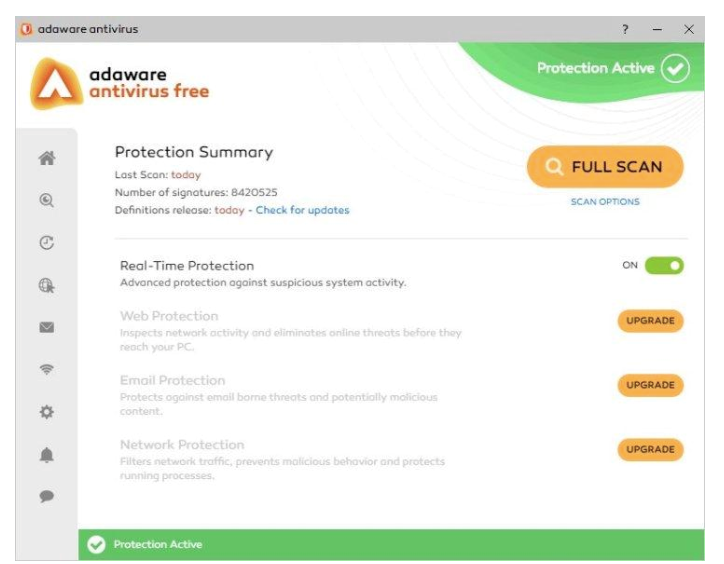 Pros
Scans downloads to prevent damage before it happens

Malicious URL detection

Scores in the 99th percentile of lab results

Performed the best in our hands-on tests
Cons
Many of the best features are paid
Adaware ties for the top spot in our rankings for a few reasons.
It scores in the 99th percentile in lab results. That's unrivaled outside of Avast
The real-time protection uses "smart scan" to conserve energy (Unlike most software that drains your battery)
Active Antivirus Control is constantly keeping your PC ON LOCK by scanning for malicious behavior and destroying it on site
But the main reason it's tied for the top spot is it rocked our hands-on testing. None of that bad stuff we mentioned before stood a chance. Its sole focus is destroying malware in your system and defending against future attacks.
DID YOU KNOW?: There are over 965 MILLION pieces of malware as of 2019. Stay protected!
Adaware ad blocker is also the fastest ad blocker on Chrome. 4.37-second page load time!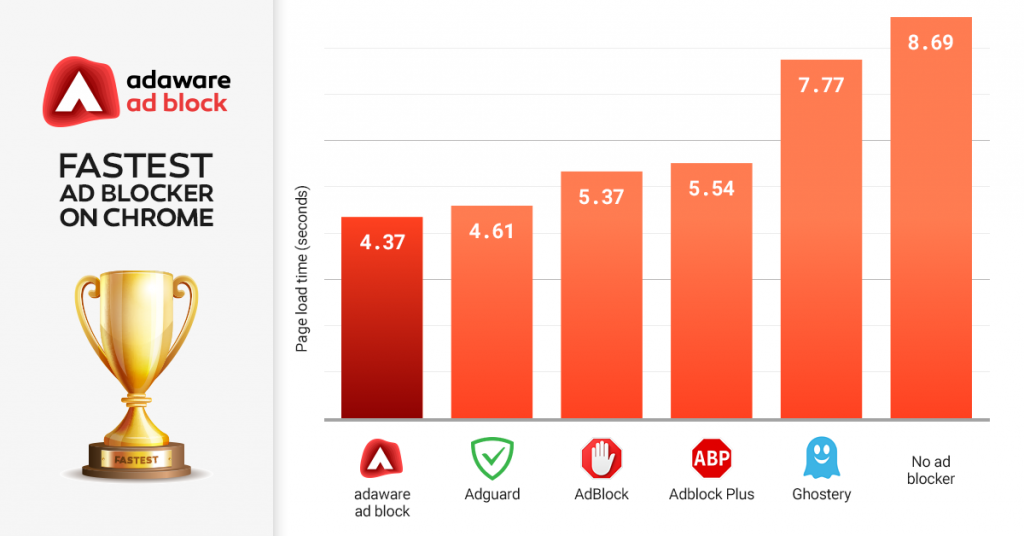 The most recent version comes with a few awesome features that bump your security and put you back on the offensive:
Malicious URL detection to prevent scams
Full scan red flags for all downloads to prevent damage BEFORE it happens
Real-time protection
The only downside is that most of the advanced features are hidden behind a paywall.
The Best of the Rest
Adaware and Avast are our top 2 picks, but there are a few others that fit specific cybersecurity needs or are easier to use for non-techies. Read up and see if any fit your bill.
BitDefender: Lightweight and fast. Great for gamers.
AVG: Simple, intuitive layout.
Kaspersky: High marks on tests, similar to Avast, and adapts to your behavior.
BitDefender – The Best Antivirus for Windows 10
Pros
Fastest page load times

Awesome real-time security threat monitoring

Minimalistic design
Cons
Lightweight means fewer features
BitDefender is lightweight, minimalistic, and powerful enough to defend against malware, phishing, malicious URLs, and viruses.
And nothing – we mean NOTHING – is cooler than the Bitdefender Cyberthreat map. This is James Bond-level security monitoring.
Anyways, back to features us non-techies understand…
If we had to describe it with an analogy, it would be: GREASED LIGHTNING.
This lightweight antivirus is the Usain Bolt of Windows 10 antivirus software, and everything else is crossing the finish line seconds behind.
Check out the difference in impact on performance:
The bare bones approach and cloud-based detection don't use up any extra resources on your PC, ensuring it's always running fast and you don't waste any battery. That's why it's considered the best antivirus for gamers and video editors.
On the flipside, the extra speed means you sacrifice some features and power that our top two picks have.
The choice is yours – which do you prefer: Speed or power?
Choose wisely!
AVG Antivirus Free
First off, we LOVE the layout!
Pros
Sleek layout

Powerful email scanning to stop malware and spam
Cons
Fewer features – including password protection
AVG scored just as high as Avast in our hands-on testing and is close to rivaling its scores on in-lab testing. Probably because it's basically the exact same antivirus engine minus the password protection.
The only difference is Avast comes with more bonus features and better support.
So why choose AVG?
For one, the new, updated layout is awesome. It's one of our favorites. It's easy on the eyes, simple to use, and doesn't bombard you with annoying ads (For the most part!).
And if you like to know who or what is threatening your PC, AVG tells you exactly what the threat was so you can see the culprit for yourself (And adjust your browsing/shopping/downloading habits).
A few great bonus features you'll love are:
Email scanning to stop spam and malware
Real-time security updates
Performance scans to check for out-of-date software
And if you feel like free is not enough – it definitely is – you can upgrade to unique bonus features you won't find with any other software…
Kaspersky Security Cloud Free
Aside from having a wannabe Morpheus as their logo, Kaspersky is also the first adaptive security service.
Pros
Adaptive tech

6 types of protection

Automatically detects dangerous network activity
Cons
Not as powerful as Avast or Adaware

Autoblock can be annoying at times

These are patented technologies you won't find with any other software.
Most antivirus software makes you adjust to it. Kaspersky adjusts to YOU. It adjusts to:
Alert you at different times
Alert you in different situations
Step in completely to block issues when it feels it knows better than you (The AI apocalypse is upon us)
Aside from that, a few of our favorite features are:
Simple settings (6 types of protection)
System Watcher that catches even zero-day malware (the hardest to detect)
Network Attack Blocker that detects dangerous network activity
Limited VPN for private browsing in public
When combined with near-perfect lab scores for phishing and ransomware, there's not much negative to say.
That being said, there's a reason Kaspersky is not in the top picks. It doesn't have nearly as many features as Adaware or Avast (Password protection, for example), and it isn't as reliable for banking or shopping.
As you can see, they greedily hide most high-level features behind a paywall.
Who could do such a thing!
Bonus – Avira Antivirus Free
Avira's been in the game for 30 years. That's beyond prehistoric in internet terms. 
They didn't score particularly high on our hands-on test, but we had to include them for two reasons:
The best repair capability: Avira not only scans, but also repairs damaged files so your computer goes back to functioning as normal.

Based in Germany: This might not seem like a big deal, but being part of the EU subjects Avira to far more stringent data privacy laws than you get anywhere else. You can be 100% certain your data won't be sold to the highest bidder.
And that's on top of protecting you from phishing on social media/email, running in the background so it doesn't slow you down, auto-blocking dangerous sites, and blocking unwanted programs.
You even get their cool dashboard as the central node of your internet life. 
Pick The Antivirus That Is Right For You
All of these antivirus softwares are plenty for protecting your computer, wallet, and data (for the most part).
But remember, no antivirus is strong enough to prevent you from giving your personal data away for free on social media! So don't tell Mark Zuckerburg exactly what you're doing at all times. 
Finally, if we could offer one additional software as a recommendation, it would have to be Soda PDF!
If you're looking for an antivirus to protect your intellectual properties and data, then be sure to check out the software that allows you to edit, create and convert your PDF documents to any Microsoft Office file.
Download a FREE trial of Soda PDF today and see why being unable to edit a published PDF is a thing of the past!