Holiday PDF Shopping Checklist 2022
"We're making a list, and checking it twice…" 🎵
Holiday shopping can be stressful, but it doesn't have to be! Discover how to create a handy PDF holiday shopping checklist that will keep you organized and save time!  
The Holiday Shopping Checklist
You can easily customize and edit your shopping checklist in Soda PDF.
Add the names of everyone you're buying gifts for, jot down gift ideas, and plan out your shopping trips!
You can make subgroups as we did below for immediate and extended family, friends and colleagues, decor & supplies, plus different stores you'd like to visit.
How to Create a Holiday Shopping Checklist in Soda PDF
Watch our video tutorial below to learn how to create your own handy PDF checklist:
We'll even break it down for you in steps here:
Open Soda PDF and start from a blank document.
Go to the Edit tab in the top ribbon bar and enter a title with the "Type Text" feature.
Next using the same feature, add a columned list of all the people you need to find gifts for with a 2nd column a couple of spaces over for a 'Gift Ideas' column for each.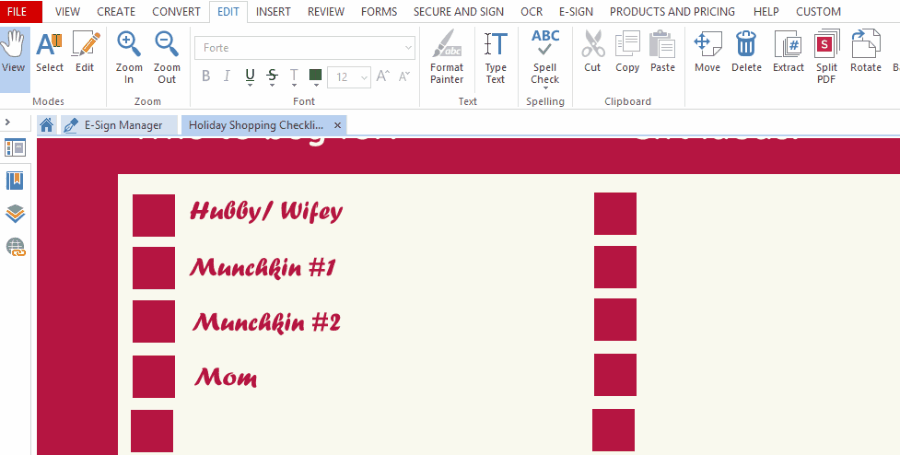 Next, add a checkbox next to each item by going to the Forms tab and selecting "Check Box. The check boxes can be easily dragged and dropped wherever you need them.                                                                                                                          
Once you've finished customizing your checklist, save your PDF file on your desktop or save it to your cloud folder. Soda has built-in Dropbox, Google Drive, OneDrive, and Box integration.
Now that you have your holiday shopping checklist, you can view it on your mobile using Soda PDF and easily check off your list as you shop!
Some helpful tips:
📍It's always best to do the majority of your shopping the week of December 12th – 18th, to avoid the last-minute crowds.
📍Try and space out your shopping in 2-3 separate trips, so you aren't left to get everything all at once.
📍 Most stores are open for the last two weeks of the holiday season until 9pm.
📍Shop online to save time!
Best of all NOW is the most opportune time to get Soda PDF for yourself or your business and colleagues. 👇
From all of us at Soda PDF, we wish you a safe & joyful holiday season and a Happy New Year!
🪄Stay close for exciting new PDF software additions in 2023!