How To Compress PDF on MAC
Are you a MAC user looking to reduce the size of your PDF document? Try Soda PDF's easy-to-use Online software to compress the size of any file in just a few clicks!
Compressing files doesn't necessarily mean you need to sacrifice the quality of your document. Soda PDF's software solution allows you to select from an array of file qualities depending on how you're looking to share your documents and which channels you're looking to use.
Without further ado, here's how to easily compress any file on a MAC using Soda PDF Online:
Open Soda PDF Online
If you're a MAC user, then you've likely accepted the fact that most PDF software available today is built for Windows. However, Soda PDF offers a completely online software solution specifically for MAC users in which no download or installation is required.
To get started, simply open up your web browser and go to the following URL: https://online.sodapdf.com/
The following screen will appear:
From the Soda PDF Online main screen, you will see the toolbar at the top of the application just underneath the web browser URL.
On the right-hand side of the application, you'll see a few options for how to get started. In this case, we're simply looking to compress our document. Simply click on Open PDF from the first option on the right.
Your Finder will then open, allowing you to search your MAC computer for the location of the file you wish to compress. Once you've selected the file, click on Open.
Your document will begin to load in Soda PDF Online like so: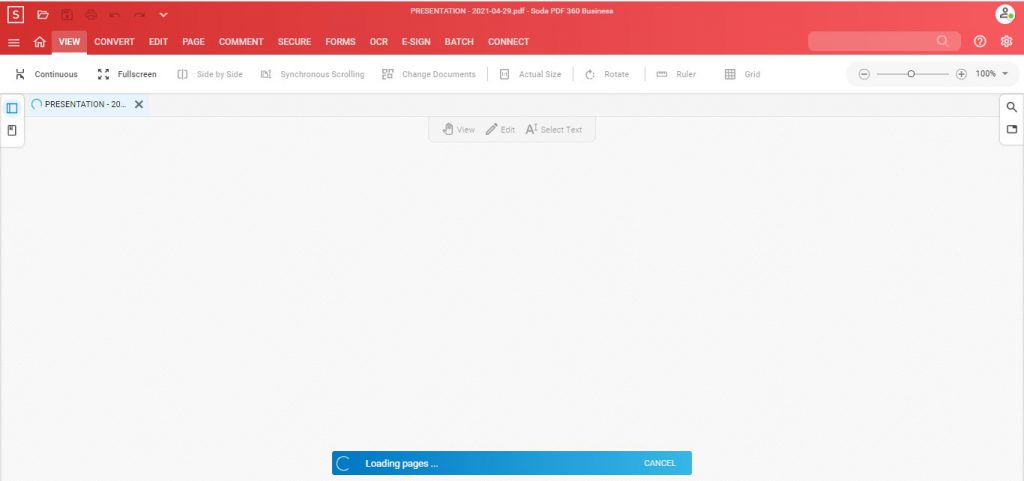 Please wait for the document to load. You can see the progress of your file upload by keeping an eye on the blue ribbon that appears at the bottom of the Soda PDF application.
Opening your file will only take a second. Once your file has been loaded in Soda PDF, it's time to start using their easy-to-use Compress tool!
NOTE: In order to get the most out of your Soda PDF Online experience, it's highly recommended that you click on the Profile Icon in the top right of the application and creating an account. With a newly created Soda PDF account, you'll have access to our entire suite of PDF tools with a FREE 7-day trial, allowing you to not only compress your document but edit, create, convert, secure & much more!
Click on the CONVERT Feature from the Main Toolbar
Now that your document has been loaded into Soda PDF Online (and you've created an account and logged in, too) your next step is to click on the CONVERT feature:
The CONVERT feature has all of the tools you need to convert the size or type of your file. You will find important tools such as Create, Merge, Split and even Compress here.
Click on the Compress tool to get started.
Select Your Compression Level
As mentioned previously, Soda PDF offers a slew of compression quality options for you to choose from. Clicking on the Compress tool, the following screen will appear:
Depending on how you plan on sharing or storing this document, you'll want to consider the following compression levels carefully:
MIN
Use this option if you're looking to reduce your document for the purpose of sharing via email or the web. Note that this file compression option will contain some image sampling and your attachments will not be saved, either. On the bright side, you'll no longer have to deal with "File size limiation" messages ever again!
LOW
Choose low for Office Quality. This setting has lossless compression and will also contain low image sampling too. Use Office Quality, or the LOW option, if you're looking to keep the attachments that's contained within your document, you might want to use another compression level instead. Think of LOW as a slightly better quality of compression over the Email format, which will be compressed in order to send large files over email or the cloud.
MED
Select Medium compression, or Print Quality, if you want your document to look and feel like it was printed, or for the quality of your file to be print-worthy. This compression option uses less image sampling than the previous compression levels, meaning that your images will most likely be as accurate to their original quality as possible.
HIGH
This is the compression level to use if you want your document to have Original Quality, meaning that you're not looking to severely impact your file or image sampling but are instead looking to trim your file size by reducing your document without affecting the quality of your work.
MAX
Select this option if you do not want any compression whatsoever. The MAX setting is essentially making your document the maximum quality possible. 
Hence if your file is large and contains lots of images, links or attachments, you'll want to choose this option if you're looking to keep all of those elements intact.
No matter which quality you decide to use, simply click on COMPRESS and Soda PDF will automatically begin to reduce the size of your file to the compression level you chose:
Soda PDF Compresses Files in Seconds!
Once you've selected your file compression and clicked COMPRESS, Soda PDF will begin to reduce the size of your file in no time!
The familiar blue ribbon at the bottom of the application, like we saw when we first loaded our document into Soda PDF Online, will show you the progress of your file compression.
Once your file size has been reduced, the blue ribbon will be replaced with the following green message:
Congrats! Your file size has been reduced! How easy was that?
Furthermore, Soda PDF doesn't simply compress your file. Instead, we make a reduced file of your originally uploaded document, allowing you to now save your newly compressed file as another document entirely.
Your compressed document will appear in a new tab. Hover your mouse cursor over the tab to see the new name, and more importantly, the new size of your file:
Et voila! Soda PDF Online makes compressing PDF files on MAC a breeze!
Use Soda PDF Online or Desktop for all Your Document Goals
No matter your document task, Soda PDF is up for the challenge. Our easy-to-use PDF tools are here for you to use and were built to help you power up your documents in no time.
Whether you're looking to edit, create, convert, merge, split, secure, compress, comment or even electronically sign PDF documents, Soda PDF Online is easily accessible from any web browser or device with internet access.
And if you're a Windows user, our Desktop application contains all of our Online tools and thensome! Be sure to use Soda PDF for all your document goals. Create your FREE account and get access to our entire suite of PDF tools & services for one week!
Review
Blog Name
How To Compress PDF on MAC
Description
Compress PDF on MAC in just a few clicks. Use Soda PDF Online to get access to our easy-to-use Compress tool to reduce the size of any file in seconds!
Author
Publisher Name
Publisher Logo