How To Create & Fill PDF Forms Using Soda PDF
Are you a data processor or someone who is in need of a simple and effective way of creating or filling PDF forms? In this article, we'll explain how you can easily create fillable PDF forms using the best PDF software solution
Soda PDF provides all the form tools you need to create fillable PDF forms quickly and with ease. Add form fields, buttons, and even import, export, or append form data to an existing sheet in just a few clicks.
Try Soda PDF's easy-to-use form tools today! Download our Desktop application and create an account to enjoy 7-day trial access to our complete suite of powerful PDF tools.
Once you've downloaded and installed Soda PDF Desktop, it's time to start creating that fillable PDF from scratch!
How To Create PDF Forms: Soda PDF Desktop
To begin, launch Soda PDF Desktop application or open Soda PDF Online.
Be sure to click on the profile icon at the top right of the application (just to the left of the Minimize option) and click CREATE ACCOUNT.
You'll need to create your account in order to get FREE access to our powerful PDF tools for 7-days. Sign up and create your password to begin using the application's full suite of PDF tools. If you already have a Soda PDF account, simply click SIGN IN.
Once you've logged into your new Soda PDF account, click on the FORM feature from the top toolbar.
CREATE PDF & CLICK ON FORM FEATURE
Use the shortcut CTRL+N to create a new PDF document from blank. You can also drag-and-drop or browse your computer for an existing file if you've previously been working on your form in another format.
Once your PDF file has been created, select the FORM feature from the top toolbar,
You'll find three options with the following tools in each feature:
Form Field

Contains Text Field, Radio Buttons, Signature Box & more

Button

Has the action buttons like Submit, Send, Email & Save

Form Data

Import Forms Data Format (.fdf) files or Export data from PDF

Append to Existing Sheet or Combine to Forms Sheet options
In this article, we'll quickly walk you through how to add form fields to your newly created PDF form.
Form Field Tools at a Glance
Once you click on the Form Field option, the following tools will appear:
Remember to click on Form Field once more to return to the Form feature options should you want to use the other tools of this feature.
PRO TIP: Switch between Edit & View Modes
Want to ensure your form field is responding in the manner you intended? Switch to View Mode to test your form field once you've edited the element or changed certain properties.
By clicking on View Mode and then selecting the form field, you can make sure it functions properly. For example, while in View Mode, clicking on the Check Box below will fill in the selection:
Want to edit the properties or change the behavior of this form field? Simply click back to Edit Mode from the mini-tool bar (pictured above) and then click on the form field.
A familiar purple background will appear around the form field. This is Soda PDF letting you know that you've selected this particular element of the PDF for editing.
Edit the Properties of any Form Field
Furthermore, you can edit the properties of any form field you add to your PDF form. Here's how to adjust the Properties of any form field in a few easy steps:
Click on Edit Mode:
Select the form field element you'd like to adjust the properties of:
Right-click on the element and select Properties from the menu list:
The Properties tab (also accessible from the right-hand side of the application) will open on the right-hand side of the application:
You can then adjust the position, color, distance, and other properties of the element with ease.
The following is an explanation of each of the Form Field tools, their appearance on your PDF document, and how you can modify their properties:
COMBO BOXES
Use the COMBO BOX tool to create and add a drop-down menu for pre-determined choices in your PDF form.
Much like we saw when editing any form field element, you can change the name of your COMBO BOX field like so: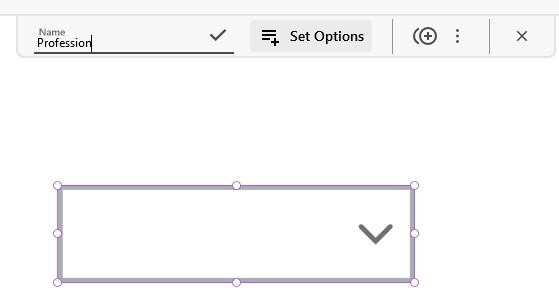 This works best if you want whoever will be filling out your PDF form to choose between an age range or a certain variable that you're attempting to track & store data.
For example, if you're creating a form field in order to have the recipient choose from a pre-selection of job professions, you'll want to select the COMBO BOX tool for this.
Click on Set Options to enter and select the specific answers you'd like your recipient to select from. The following screen overlay will appear: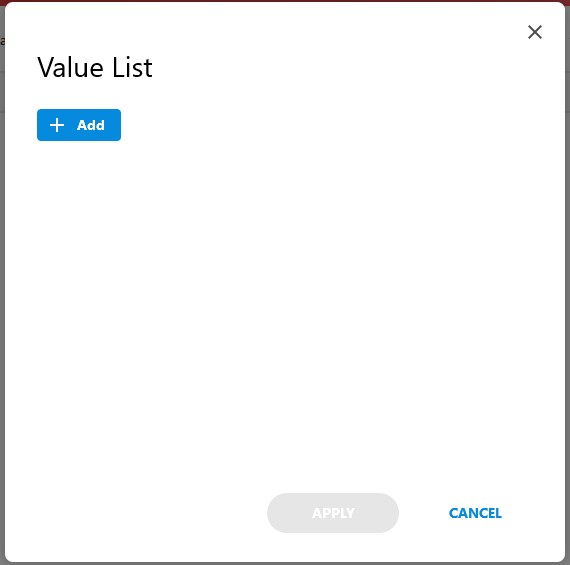 Click ADD to add new items to your Value List. You'll then be able to add a new Name and Value for your form selection. Once you've added all of the options you wish to include for this COMBO BOX, simply click on APPLY:
Once you've clicked APPLY, these selections will be made available since you've now applied these options to this particular form field.
SIGNATURE FIELD
In order to add validity and ensure your PDF form is irrefutable, be sure to add a Signature field to your PDF form.
A signature field is used in instances where you require your recipient to sign and date the form as a means of ensuring the validity of the recipient and the form itself:
Click on the Signature tool and place the box in your PDF document where you'd like your Digital Signature to be added.
To view the process for adding a Digital Signature that your recipient will see, click on VIEW mode and then select the Signature form field. The following screen will appear:
Click on the Signature field element to add your Digital Signature to the form. The following screen will appear:
Choose your Appearance settings and then select the Reason for adding a Digital Signature.
As you can see, there are a few options for when adding your Digital Signature so select the one that fits your purpose.
You can also customize the appearance of your signature even further. You can change the Certificate Name and the email that will appear as text around your Digital Signature:
Change the Certificate Name of your Digital Signature to whatever text you need, then simply click on CREATE to apply these changes.
Before the Digital Signature can be added, you will need to save a copy of the PDF form. Otherwise, your Digital Signature will not be applied;
Soda PDF will provide you with a successful notification once the copy of your PDF form has been saved:
Furthermore, once the Digital Signature has been added, if you or anyone tries to further modify any element or content of this PDF form, the following screen will appear:
Once any Digital Signature has been applied to any PDF document, it will need to be removed before any further modifications can be made, hence why documents with Digital Signatures applied are popular means of validating a document's legitimacy.
CHECK BOX
Check boxes are used when you require your recipient to select all of the options that apply to their specifics.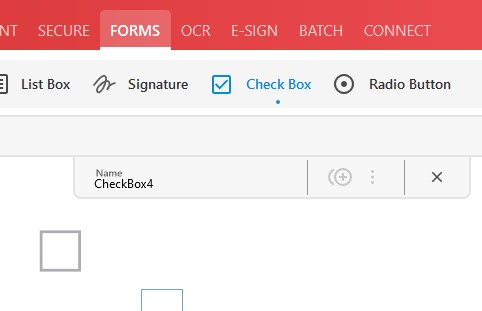 For example, if you are surveying people and need to know whether or not they have specific skills or training, you may want to include text that says "First Aid" and then a check box next to it rather than another type of form field.
LIST BOX
Here's what your List Box would look like once applied:
List Boxes give your recipient an opportunity to list out their answers in long form.
RADIO BUTTON
Radio Buttons are used as a means of selecting or choosing responses from a list of options.
You can customize the appearance of your Radio Buttons, including changing the name, by clicking on the Radio Button while in Edit Mode or by right-clicking on the element and selecting Properties.
TEXT FIELD
The Text Field form field appears like so: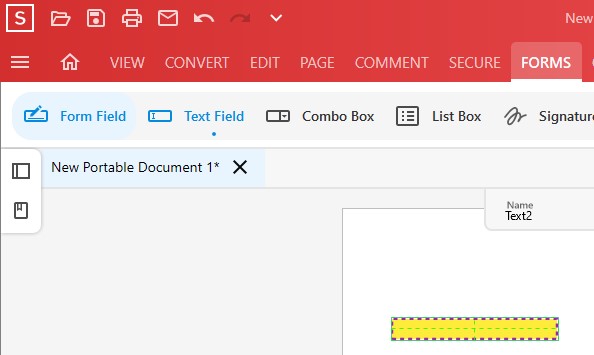 When your recipient interacts with this form field, they'll be able to type their answer in the box. Please note that you may need to elongate the box, which you can do in Edit Mode by selecting this particular element, in order to have more space for an answer to be typed into this field.
Use the EDIT Feature to Add Titles for Your Fields
Want to add some clarity to these form fields? Yes, we've learned how to name each form field element, but what about adding text to provide clarity to your recipient about what kind of information needs to be placed in the form?
To add a simple text field, not form field, to your PDF form, simply click on the EDIT feature, not Edit Mode, from the main toolbar at the top of the application.
Select the Type Text tool and then click on the area of your PDF form in which you'd like to add text:
As you can see below, by adding text above each form field, your document is now clearer and the information that needs to be provided in this form is literally written out for your recipient to follow the instructions:
Use Soda PDF to manage documents with ease
Whether you're looking to edit, create, merge, split, secure or even electronically sign PDFs, Soda PDF has all the powerful tools you need to make quick work of your documents.
Our powerful, easy-to-use tools and simple, user-friendly interface provide you with a pleasurable experience for annotating or modifying your documents.
Now that you've created your new account, enjoy access to our entire suite of PDF tools and services for the next 7-days. Try Soda PDF offline by downloading our Desktop software, or log in to Soda PDF Online from any web browser.
Review
Blog Name
How To Create & Fill PDF Forms Using Soda PDF
Description
Create & fill PDF forms with ease using Soda PDF's easy-to-use Form feature. Download Soda PDF, start your FREE trial and create fillable PDF forms fast.
Author
Publisher Name
Publisher Logo