Meet inPixio Photo Clip 9 Pro: Photo Eraser
After meeting inPixio Photo Clip 9 and realizing how awesomely powerful and simple to use the software is, we'd like you to meet the Photo Editor's partner in crime!
Introducing inPixio Photo Clip 9: Photo Eraser. That's right, an eraser! Ever have someone unexpectedly (and rudely) photo bomb an otherwise perfect picture? Yeah, same here.
Well, with inPixio's Photo Clip 9: Photo Eraser, you can remove any unwanted photographic pests that get in the way of your scenic shot.
Curious to learn more? We thought so!  Here's even more reasons (as if you needed any!) to get your hands on the amazing inPixio Photo Clip 9 Pro software, as we take a closer look at their convenient Photo Eraser program.

inPixio Photo Eraser At A Glance
Yet another reason to fall even deeper in love with inPixio is the fact that their Photo Eraser comes with a handy Tutorial for first-time users.
After all, erasing parts of a picture in the past simply meant doing a cut-out or with a pair of scissors if you were scrapbooking. Digital removal, however, required advanced Photoshop skills (not to mention the patience to get through their cluttered user interface).
From the Photo Eraser 9 home screen, users have the option to open a file from their computer or work with one of their Recent Files, which could include a project you were working on in Photo Editor. 
Similar to the Photo Editor main menu, the user also has access to Online Printing and can even get Help right from the get-go. However, in order to truly showcase the Photo Eraser 9 for all its glory, let's dive into the Photo Eraser's most intriguing option from the start menu:

Photo Eraser 9: Tutorials
Thanks to inPixio's Photo Eraser, you can now learn how to easily remove elements that you don't want in your shot.
There is a tutorial section. From the launcher, select Tutorials, which allows the user to select from a few inPixio's stock images, which then walk the user through implementing each of the Photo Eraser's features, such as:
Crop
Erase
Correction Patch
Clone Stamp
As you can see, this tutorial walks you through with a step-by-step explanation of how to start erasing the Eiffel Tower:
inPixio makes it easy for anyone, whether a professional photographer or a casual picture taker, to easily understand their features and learn how to start removing unwanted elements.

With that, let's dive deeper into these fantastic features, because erasing the Eiffel Tower is just the tip of Photo Eraser's iceberg!

Erase
Here's the feature that is essentially the driving force behind Photo Eraser (hence the name), but by no means is this the only stellar feature this software provides.
Again, the Tutorial will walk all new users through the process of learning to use the Erase tool, but here's a quick rundown of what this feature provides. The user has a few options for how they want to erase elements:
Selection brush
Rectangle selection
Lasso selection
Polygon selection
Fix the selection
Select the Rectangle selection if you want to erase a square space from your image.
The Lasso selection allows the user to trace around the image before hitting the big Erase button and the Polygon selection is for point-and-click areas to erase, forming an obtuse structure around those unwanted elements.
Furthermore, use Selection mode for these tools to choose whether or not you want to temporarily or permanently erase these elements.
The Selection brush and Fix the selection tools, however, allow for the user to draw with a red marker on the image and while able to use the Selection mode like the other Erase tools, users can adjust their brush size for bigger or smaller areas, thus allowing for intricate erasing.
Depending on the elements (or the face and/or size of this infamous photo bomber), you want to be strategic with the tool you choose, but inPixio gives you the power to properly erase whatever you deem unnecessary.
For example, the Lasso selection tool makes for simple erasing of the Eiffel Tower as you trace your cursor around the landscape like so:
Then, when you're ready to hit the big Erase button, the Eiffel Tower (or whatever you happened to trace or paintbrush) will be erased in seconds!
You will feel like a Photo Eraser pro by the end of inPixio's Photo Eraser tutorial, we guarantee it! The four step tutorial can easily be mastered, especially when inPixio congratulates you for making it look so easy (let's be honest, they helped a lot!):
Users also won't have a blank space or hole in their picture either (after all, that's what other erasers will do) and that's because inPixio Photo Eraser makes it seem like your photo was never doctored at all! Talk about being equipped with a magic Eraser!
Can you spot the Eiffel Tower? Of course you can't! That's because Photo Eraser helped me remove it from the skyline without affecting the rest of my scenic picture! Pretty cool, right?
Crop
Cropping your photo is important, especially if you need to reduce the sizing to fit your photo into a certain frame dimension.
With this in mind, inPixio Photo Eraser provides their users with the standard framing sizes: 1/1, 3/2, 4/3, 5/4, 7/5, 16/9 or keep your photo's Original format or create Custom dimensions!
Photo Eraser's Crop feature also allows for the user to do the traditional cropping features, such as rotating the image and adjusting the cropping properties, whether they be vertical or horizontal.
But THE Crop feature tool you won't want to miss is the fact that you straighten your image:
Did you accidentally capture your image sideways and want to make sure everyone and all the elements in your image are on a, uh, level playing field? Well, simply straighten your image by clicking on the Straighten Tool.
The user can then draw a line across their image, in the area that they wish to straighten, and voila: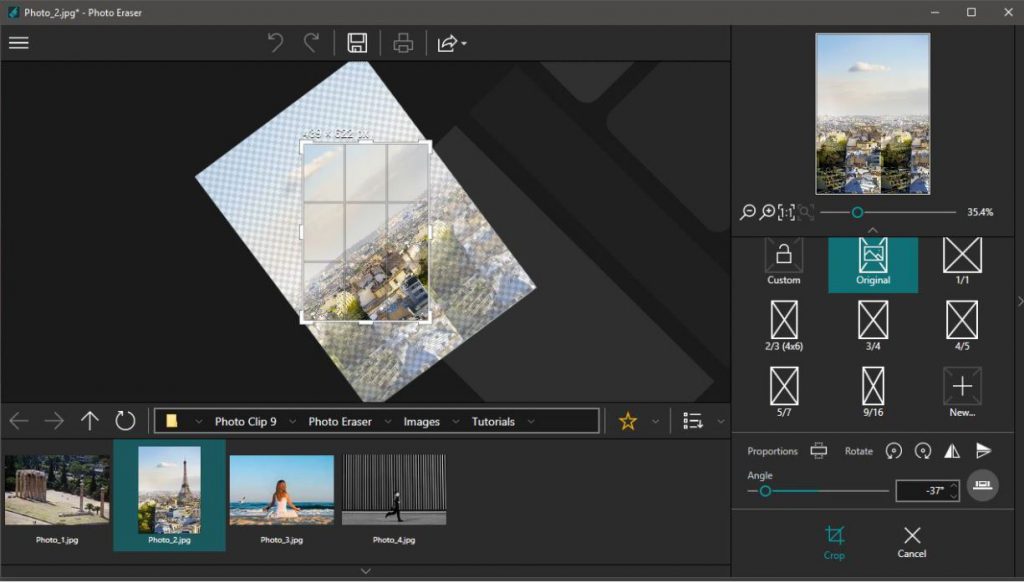 Photo Eraser shows you exactly how your image will look straightened and you can proceed to crop your image to the ideal sizing from there. Not only is this convenient, but it completely re-invents what some might have once dubbed a "bad" picture.

Now that's what I call a Crop feature!
Correction Patch
For those looking to make artistic photos, inPixio Photo Eraser's Correction Patch is for you!
Choose between two options, Source and Destination, to start cloning or removing an area of your image with another area of your picture. Your area of selection can either be as a Rectangle or that popular Lasso tool, similar to what we saw with the Erase tool.
Source
Use Source Correction Patch to move an identical part of your image to another area of the picture.
Since the Eiffel Tower has been erased, using the Source Correction Patch allows for the user to fill the empty space by mirroring the trees in the right hand corner, like so:
You can completely transform the Paris skyline and turn it into a brand new city to really let your artistic flair shine!
Destination
Destination tool in the Correction Patch module is for when users have an element of your image that you want to hide. Again, best example would be a photo bomber interfering with your scenic background. So let's find out how we can switch them out of the shot, shall we?
Unlike Source, which duplicates, Destination masks an area of your picture with elements included in your original image. Simply select an area and then move your cursor over to another area and inPixio's Photo Eraser will do all the duplication for you.
For example, instead of duplicating those beautiful trees, we can hide them with a duplicate building, like so:
Use the Lasso selection if you want to be more intricate with your Destination, or simply use the Rectangle selection if you're not picky and simply want to cover a bigger area rather than a smaller detail.
Clone Stamp
Last but not least, we have the Clone Stamp feature. Use this module to paint over a part of your image with another area of your image. Again, sounds complicated, but inPixio makes it all seem and sound so simple for its users (yes, we can't get over how user friendly this app is!).
Once the user has decided on the area they wish to clone, click on the Source to duplicate target cursor.
Then, simply click on an area of the image that you want your Source to duplicate to paint over. Proceed to move your cursor around if you want a large area to be painted. Or, just click on the area you want to paint over if its a smaller, minute detail that you want removed.
And here's how your image will look once you've finished painting with the Clone Stamp feature:
Want the area you're Clone Stamp-ing to be bigger? Adjust the Brush Size, Hardness, Opacity and Flow of your duplicated source to increase or decrease the sizing of your target cursor.
Furthermore, the Clone Stamp feature is perfect for anyone looking to make an artsy photograph for an album cover or poster. Just make sure you have the right sizing of your image for printing purposes.
Ahem, did you forget about that Crop feature already?
Save, Share or Open with Photo Editor
The Photo Eraser, while only four features, definitely packs more punch and power than at first glance. Just think of all the editing power you have, yet you never feel overwhelmed by the options before you. InPixio does a fantastic job of making the user feel comfortable and always in control of their image.
Once you've finished touching up and erasing any unwanted elements from your picture, you're pretty much done with Photo Eraser. But does that mean you're done with inPixio? Didn't think so!
You can save your image to your desktop or cloud storage device, share on social medias like Facebook and Tumblr. Or, even open inPixio Photo Editor 9 to continue to add that je ne sais quoi look and feel to your picture!
What To Do When You Can't Photo Erase Your PDF?
Say, for example, that your PDF document has a "photo bomber" of its own, perhaps a piece of text or an image that you want to remove from your document. Problem is: your PDF has already been published!
Enter Soda PDF Anywhere, a software in which users can edit, convert, create, compress and merge their PDF documents to and from over 300+ file types.
Much like with Photo Eraser, its user interface is simple and easy-to-use, plus you can get a FREE 14-day trial when you download our online app.
Try Soda PDF Anywhere desktop app, or work with your files online. The choice is yours, so why wait? Let's make the most of your documents today, thanks to Soda PDF!