The Ultimate March Madness Bracket (FREE Template)
March is that time of year where almost everyone is glued to their television or device's screen. No, they're not trying to keep up-to-date with the ever-changing news or even to start watching that new binge-worthy series.
The tip off is that March Madness is right around the corner, which means that this is the time of year where basketball brackets are being filled out and the hype surrounding college basketball is about to hit a fever pitch.
And no, we don't mean because of the recent news concerning spectators being barred from the tournament all-together. If anything, not being able to attend games will make bracket challenges all the more popular.
So with that, get yourself and your group of friends ready for the tournament with a FREE March Madness bracket template and learn how to fill out your bracket using Soda PDF.
March Madness At A Glance
The rules of March Madness are simple: pick the winners and choose which school you think will ultimately win the national championship.
Sounds pretty easy, right?
Only problem is that when it comes to this NCAA tournament, nothing is a guarantee. Teams are ranked and seeded by a 10-person committee and those selections will be announced on Sunday March 15th.
NOTE: Our template will be updated on Sunday once the seeding has been finalized.
Even if one school is ranked higher than another, you don't get to call this tournament March Madness without historic upsets over the years.
Take for example the most recent, memorable upset. Led by eventual second overall pick in the 2019 NBA draft, Ja Morant and his #16 ranked Murray State Racers completely overwhelmed the #5 ranked, and heavily favored, Marquette by a score of 83 to 64.
Morant was the first NCAA player to score a triple-double (three stats in double digits, specifically points, assists and rebounds) since Draymond Green. Green, for those of you who don't know, went on to become a three-time NBA champion after he left Michigan State.
Morant proved what makes March Madness so special: surprise, dominant play from future NBA stars that make the entire tournament exciting to watch, no matter what the rankings are. 
Any school can win, which makes choosing winners all the more challenging.
March Madness also seems to be a slam dunk within offices, as this seems to be an acceptable (and only way) to gamble at work.
The fact that there's so much uncertainty when it comes to filling out your bracket makes March Madness enticing and fun for all, from hardcore fans to casual ones.
How Does The March Madness Bracket Work?
Filling out your bracket is just the start. You'll then want to consider your point system and any prizes or rewards for those who have the perfect bracket (never going to happen) or end up winning the March Madness bracket challenge.
Here's how it works:
Each person will be picking which school they think will win each game.

For each round, the person will get points for each correct guess. Each round there are 32 points up for grabs, so each subsequent win is worth more.

1st Round, March 19th to 20th: 32 games, each correct pick gets 1 point.
2nd Round, March 21st to 22nd: 16 games, each win worth 2 points
Sweet 16, March 26th to 27th: 8 games, wins worth 4 points each.
Elite 8, March 28th to 29th: 4 games, wins worth 8 points each.
Final Four, April 4th: 2 games, wins worth 16 points each.
Championship Game, April 6th: picking the winner gets you a whopping 32 points.
Plus, this suggested point system can be completely customized in any fashion to spice up your pool. For example, a #1 seed has never been defeated by a #16 seed. Could this 2020 tournament be the year we see this happen?
With that in mind, why not entice your pool to pick the underdog by offering up a whopping 100 points if successful? And for those who pick the favorite to win, perhaps make it so that they are only awarded one point.
That way, should a shocking upset take place in the first round or beyond (this is the NCAA after all), the reward for that risky pick pays off in points.
Ever feel like after the first couple of days of March Madness basketball, you and several other of your friends or co-workers' brackets are completely busted? Well, why not up the ante so to speak by creating a brand new bracket worth double the points?
Now that the point accumulation has been explained and the dates for each round have been determined, let's move onto why you're here in the first place: to learn how to fill out your FREE bracket template with Soda PDF!
How To Use Soda PDF's March Madness Template
First, download your FREE March Madness bracket template:
March Madness Basketball Bracket – Soda PDF
Next, get a FREE download of Soda PDF desktop application.
Finally, open your bracket in the Soda PDF application, which will look something like this: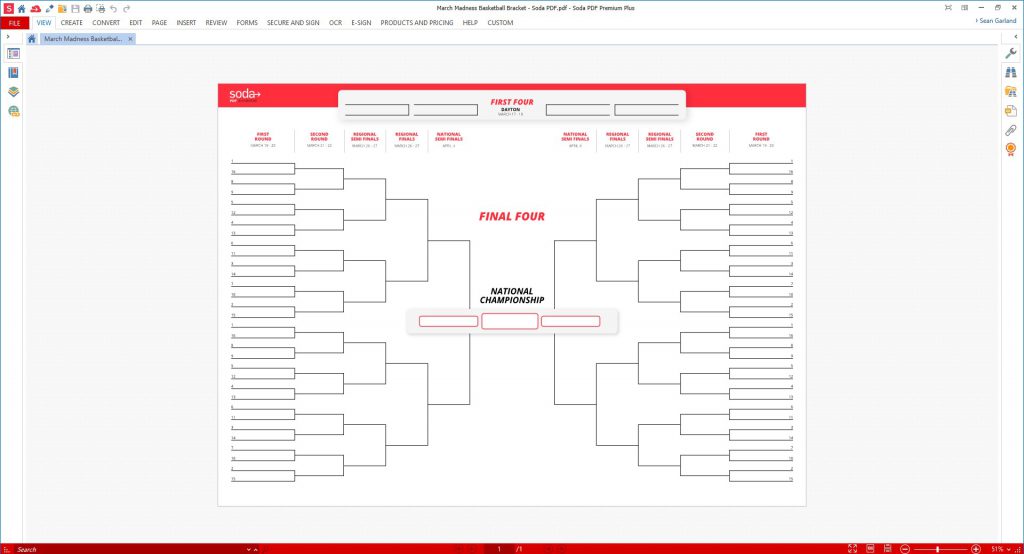 Ready to start filling out your bracket? We thought so!
Soda PDF's March Madness Tracker
Now that you've downloaded Soda PDF, there's a couple of options for you to fill out and send your bracket to others in your March Madness pool.
Adding Text To Your PDF
This is one of the easiest ways to fill out the bracket, however, sharing the file with others who might not have a Soda PDF account will be tricky since they will likely need to purchase the product in order to use the Edit tab.
From the Edit tab, click on Type Text. You'll then be able to click on any part of your PDF and add a text field, which you can then start to type out a college name to start filling out your bracket like so:
Furthermore, you can add text fields to denote the conference on either side of the bracket:
Soda PDF even allows users to change the color of their text font and size, plus as you manipulate the text fields within your PDF.
What's more is our software makes margin lines appear, allowing you to easily center your text on the page as you shift these fields around:
For example, I've started to fill out my bracket. I've added a couple of college teams and even added the conferences too in anticipation of Sunday's selection:
Be sure to add your name to the bottom of this bracket and include a "TOTAL POINTS:" to help you keep track of your accumulation as the tournament plays out.
And that's how you can add text to your bracket! Pretty cool, right? But wait, there's another way to fill out this bracket using Soda PDF!
Adding Form Fields
Soda PDF also enables users to add form fields. Side note, you can totally make forms from scratch using our software. But I digress. Back to the bracket!
By adding form fields, you'll make it possible for your fellow players to easily fill out this bracket.
To start, simply click on the Forms tab in Soda PDF, then elect Text Field:
Next, start adding these text fields to the bracket. You'll want to add them for each match-up, plus much like adding text, the margin will appear allowing you to make sure the field is centered:
Then proceed to add the rest of the text fields to your bracket like so:
You can then add text directly into this field, which makes for an easy way to fill this bracket out in simple steps:
And there you have it. Your bracket is officially primed and ready to predict the national champion of NCAA basketball.
No matter what picks you make, be sure to add them to your bracket using Soda PDF!
What Else Can Soda PDF Do?
Brackets are just the tip of this Soda PDF iceberg. Sure, we may seem like a simple PDF editor from the surface, but the further you dive into our software, the more you'll see how deep our all-encompassing features can get!
Whether you're looking to edit, create, convert or merge files to and from the PDF format, Soda PDF can help you achieve your document goals. Plus, our software even provides more advanced features such as forms and annotation, where you can transform your document into a collaborative space for you and your team.
Whatever your document needs may be, and no matter how complicated they may sound, let Soda PDF help you make the most of your files with our easy-to-use tools.
Get a taste for our powerful PDF modifying software with a FREE download of our desktop app, or try out one of our many online services today!