Interview with Yann Le Houelleur – Creator of Paris en tous Sens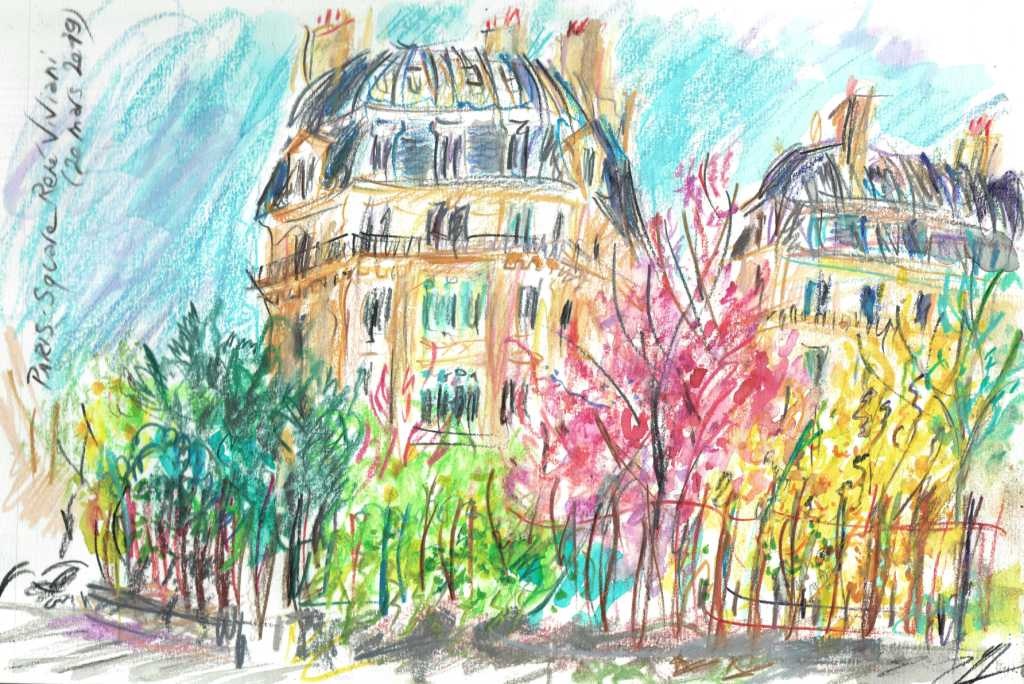 A great way to showcase what you are passionate about is to create an online publication. This is exactly what Yann Le Houelleur, the creator of Paris en tous Sens, has done. Even if you don't speak any French, prepare yourself to see some incredible street art from a truly unique perspective.
Since Yann works with PDFs we were extremely happy to find out he relies on Soda PDF when creating Paris en tous Sens (Paris in all Directions). It's easy to talk about all the things a PDF can be our opinion is very biased. That's why we asked Yann more about his experiences.
We knew you'd rather hear from someone who actually does something cool with our software than just trusting us.
Why did you start Paris en tous Sens?
Yann heads around the city of Paris (or anywhere he may be) and literally draws what he sees. His incredible style really is a unique perspective that makes you want to learn more about wherever he is. Which is why it's absolutely incredible he tells you exactly where the drawing took place.
Not only is he a talented artist, his writing style is quite fun to read. We found his friendly warm tone still exists after running some of his text through Google Translate (though most of us speak French in our Montreal office). In each edition he updates you about the adventure that is his life.
Here's a fun game for the office, use Google Maps to find the location he drew. When you see how accurate they are, and how artistic he really is, we promise you'll be duly impressed (we may have spent a bit too much time on this part.)
Can you tell us more about how you started "Paris en tous Sens"?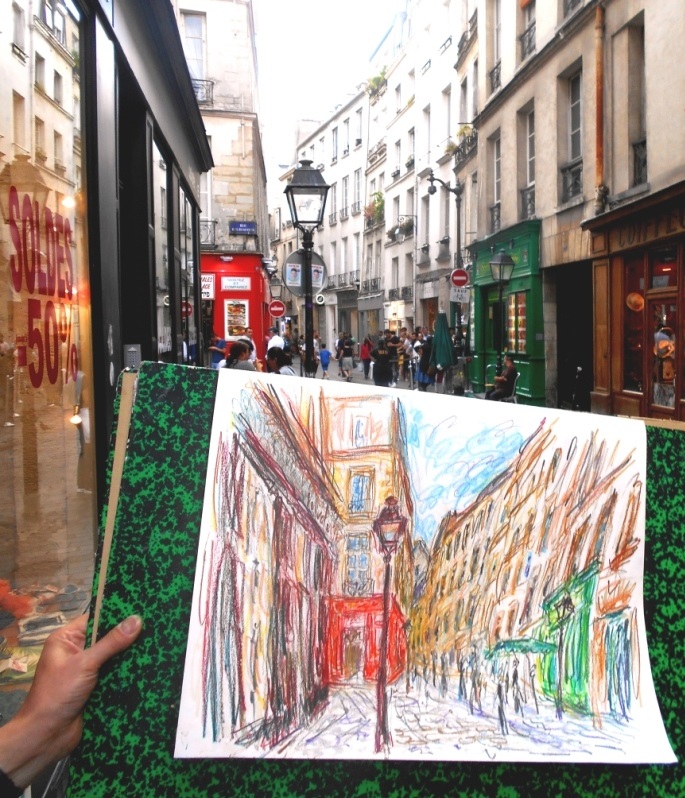 In fair weather you will find Yann will be in the streets of Paris. Armed with high quality materials he draws what he sees. He creates these unique pieces that are quite literally his "views from Paris". If it's rainy and cold, Yann will still be out there, only sheltered on the terraces of various cafes.
Conveniently, this is an attractive thing to tourists. They can purchase one of Yann's astounding creations at an extremely reasonable price (quality materials aren't cheap). Instead of taking a regular selfie for Instagram, get a custom (and beautiful) drawing of exactly where you are.
Yann assures us that he only sells originals. He knows this is important to the people who support him. He finds that people are tired of the mass-produced printed art you can get anywhere.
You can imagine that Yann meets a lot of people. Along the way he realized that an online magazine is actually a great way to showcase his work to his fans. He creates premium work (way more polished than what he will do in the streets) and offers them for sale through his self-made publication, Paris en tous Sens.
Yann creates several editions a year. He finds that the edition he puts out right before the holiday season will have an increase in people wanting his paintings. We get it.
We guarantee you should be thinking about Yann's art when looking for something nice to get for those you care about.
You can check out his work over on his website:
http://www.123siteweb.fr/parisentoussens
How did you end up using Soda PDF?
Yann was not interesting in dealing with complicated professional publishing software (we don't either, you basically need to take a course to use that stuff). Given his technical knowledge, he found Microsoft Word perfectly fine for dealing with his page layout needs. But Word is not the end point for publishing a magazine, it needs to be converted to PDF.
After doing some research he came across Soda PDF. He realized how easy it was to convert from a Word file to PDF and signed up for a trial. Since the trial gave him access to the program, he felt encouraged to play with the different features and have some fun with Soda PDF.
Soda PDF hit his checklist of essential features, which include basic page management and reducing the size of a file, so for him this was a clear choice.
Yann knows he isn't an expert with software. Yet he knows as he explores Soda PDF more that he will find new ways to save time.  Throughout our correspondence we were impressed with his desire to learn and grow.
How long have you been using Soda PDF?
Yann has been using Soda PDF for about 4 years now. He says he's put out 10 editions of Paris en tous Sens with the help of our application.
At the end of April (2019) you can expect Yann to release his latest version of Paris en tous Sens. You can expect to see him highlighting several drawings from the beginning of spring. He assures us there are plenty of beautiful and sparking colors in the vegetation laced across the urban landscape.
What software did you use before Soda PDF?
Yann admitted to using the free version of Adobe Acrobat. We enjoyed how he described the application as much less fun to use than Soda PDF.
What we really appreciated was that Yann enjoyed the flexible approach we took when designing Soda PDF. No disrespect intended, Adobe products are designed to work well with other Adobe products.
It's not our fault Yann thinks were more fun.
Can you explain the process of creating one of your publications?
Yann does the bulk of his editing using Microsoft Word. While every issue is different, Yann has some tricks he uses to save time. He will keep using the same fonts and frequently copies and pastes anything that appears in each edition.
He'll create a file where he will store all the drawings that will be used in that issue. Another file will be created for all any text you'll read. Then there will be a third file for the descriptions that will go with each image.
With the magic of copy and paste he will build out the edition he is working on. Word allows him to easily structure his text boxes and images. Soda PDF already enters the picture as he will convert his work to PDF to preview what the final product will look like.
Once the edition is complete, it's time to convert everything to PDF. He prints the document page by page, in order to make sure he catches anything that needs to be corrected. He then proceeds with the conversion.
The next step is crucial. He'll compress the PDF so that he can email it out to his fans. He rarely encounters a moment where someone says they cannot open the PDF. He trusts that Soda PDF is a reliable way to get his magazine to the people waiting on it.
Yann will also convert specific pages of his PDF to an image format, so he can share them to his social media platforms. Make sure to like Yann on Facebook.
Can you tell us if Soda PDF saves you time?
It's not that Soda PDF saves me time. Microsoft Word is where the bulk of the work takes place. But there is always an uncertainty that something will go wrong when converting files to PDF.  Sorry, we meant to say before Yann used Soda PDF that was a fear.
Soda PDF is reliable. Yann's Word files use multiple fonts and has a very specific layout. Soda PDF maintains the form of his magazine perfectly, only securing it to the PDF format.
He made sure to point out he has used other free trial versions of PDF software and this reliability is not common. Many times they would change his fonts and make other alterations.
Yann knows he can rely on Soda PDF.
Any closing remarks?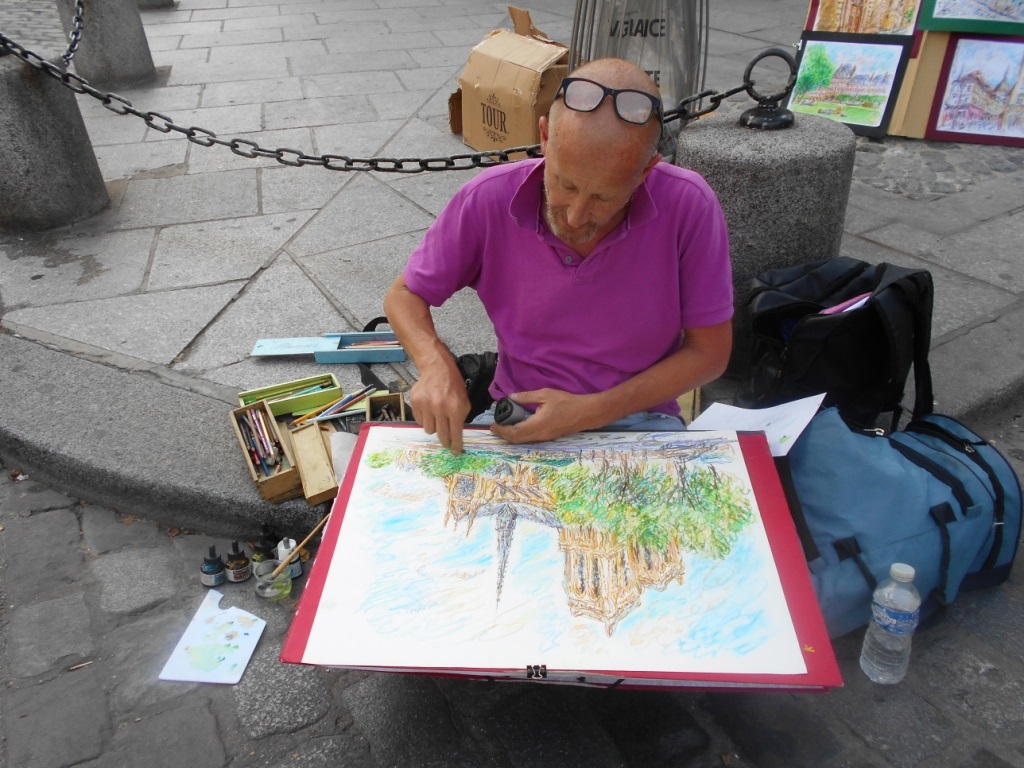 Yann did have one closing point, that was completely unsolicited from us. He wanted to emphasize the "excellence of customer support" he received. Over the course of his time using Soda PDF he has faced several moments where he needed to rebuild his computer.
Reinstalling applications is not something Yann enjoys doing, modern tech comes with some learning curves. When Yann reached out to our support team, he encountered agents who effectively explained how he can get Soda PDF up and running again, each and every time he needed it.
He felt that even though we are separated by an ocean we made him feel like we are all part of the same team. The reassuring tone he encountered made him feel encouraged to keep using Soda PDF. He appreciates the efforts we made to earn his trust.
We appreciate the amazing words he provided for us to put into this piece. Make sure to check out Yann's work (and maybe buy a couple of amazing pieces of art).
http://www.123siteweb.fr/parisentoussens
https://www.facebook.com/Yann-Le-Houelleur-1956786901266949/
Also… feel free to try out Soda PDF yourself: