Why PDF? Quick and Easy Photo Collages For Work or Home
If you're like me, finding an easier way to accomplish a goal always feels like a win. I had that moment when I made my first PDF photo collage. Seriously, anyone can open a program like Soda PDF (it IS on my computer) and proceed to make something that looks impressive.
We'll use a real-life example. Any cat lover will tell you that seeing a whole slew of their babies at once is always a good thing. Even if they took every picture and have already seen them a hundred times.
Someone close to me was having a bad day, and within 20 minutes I had whipped up a PDF photo collage of their adorable pets. Since it's a PDF, I knew that they could open it on any device, print it, send it to their friends and everyone would see the same formatting, the same personalized experience.
You can also use this technique to capture memories after a corporate retreat. Or arrange the faces of your colleagues into an engaging flowchart showing the company's new structure.
Step 1: Set Up Your Page
Your fresh new PDF will be in the standard letter size, in the vertical type friendly portrait mode. This can all be updated based on what you want to do.
In the Page Tab you can rotate the page so it's in landscape.
Click the Rotate option.
Choose one of the sideways A options.
Click Rotate.
You can also update the page size.
In the Size drop-down choose Page Size Setup.
You can then adjust the height and width of the page.
Type your measurements into each box.

Choose OK.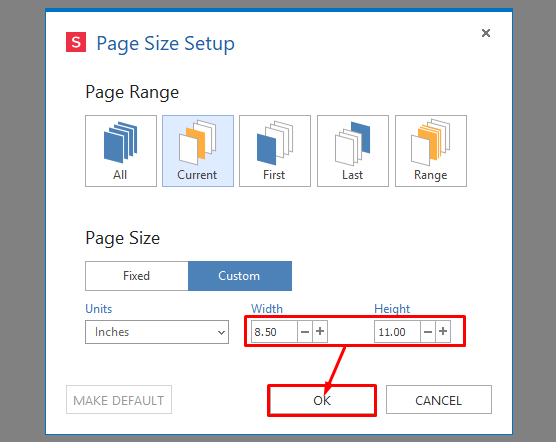 Now that your page is ready to go, let's get to adding images. 
Step 2: Insert Your First Image 
In the Insert tab you will find the option to add images to your PDF. 
Click the Insert option.

Browse your computer and choose the pic.
You'll see it appear in your document. You'll always know it's an image because the border will be red.
You can now resize the image and slide it around your document. Your mission is to place all of your images into this document, then to arrange them so every pic is in the perfect spot.
However, maybe we can trim out some of that bathtub and focus on the cat.
Step 3: Clipping/Cropping Your Pics
By clipping or cropping out the excess boring parts of an image, your PDF photo collage will look more professional.
First, you may be wondering what the difference between clipping and cropping is. At face value, they both appear to do the same thing. Focus in on a part of an image while deleting the rest.
Both tools work the same way.
Hold down the left mouse button and drag over an area of the pic.
Adjust the clip/crop area.
Click the Clip/Crop button to finalize.
You'll see the difference between the tools when you select your image after clipping or cropping.
When you clip an image, then select it, you will see the outline of the original image.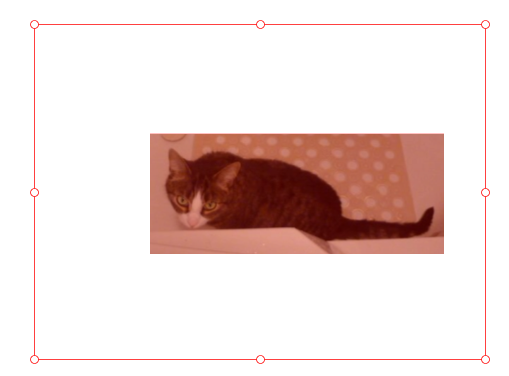 Cropping the image will trim away the rest of the image. When you select a cropped image, it will appear as though the cropped area is the entire image.
Step 4: Layering Your Images
As you are playing images around your PDF, you may decide to use a little layering to fill in any gaps.
Soda PDF lets you move move images in front of or behind other images.
Right click on an image.
Expand Arrange Objects.
Choose one of the options.
As an example, we sent the selected picture to the back. You can see the difference below:
Step 5: Aligning your images 
You are well on your way to finishing your first PDF photo collage. We wanted to bring attention to two helpful tools that make alignment simple.
As you move images around your document you will notice green lines that appear whenever two images are lined up perfectly. If you release the mouse button when you see the green lines, the image will snap into it's aligned position.
In the Edit Tab you will also find our Ruler tool. This can be used to add guiding lines to your document.
Click Ruler to turn it on.
Click into the ruler area, drag your mouse into your document.
You'll see the ruler line appear.
You can use these to section off areas of your PDF page. You can hide the ruler at any time by clicking the option.
Step 6: Save Your PDF Photo Collage
Once I was done arranging everything I had the PDF document below:
Now it's time to save the file. In the File Menu you are able to choose where you want to save your PDF photo collage.
I used my Dropbox account as my friend and I have a shared folder. By saving it right into that folder, she'll get a surprise popup that this document available for her to view.
We encourage you to download Soda PDF and make your own piece of art. Feel free to send us your work.