How to Save a PDF as a JPEG for Free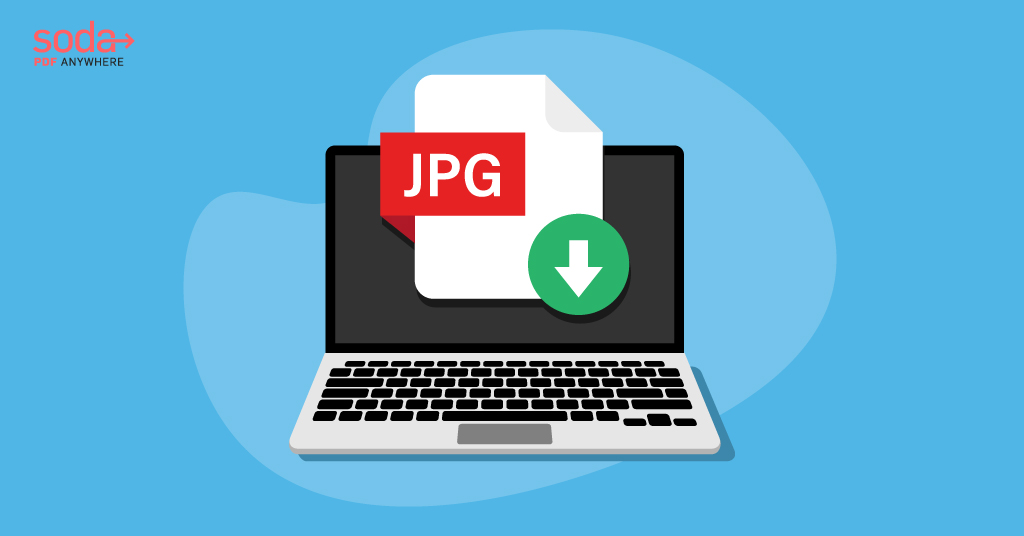 In this article, we teach you how to save a PDF as a JPEG for free using Soda PDF's free PDF converter tool. Best of all: no installation or download is needed, simply convert PDF as a JPEG directly from your web browser window!
There are many ways out there to save PDFs as JPEG files. However, not all are created equal. In fact, most people tend to look for ways to go the other way around – convert to PDF, because a lot of scans of hard copy documents save as image files, and most often JPEGs, which have a lower image quality.
Sometimes, though, you'll want to actually convert a PDF to JPEG in order to reduce file size, so you can save and share it more easily on the web.
If you're looking to convert PDF to JPG in a free, easy, and quick way, read on!
So without further ado, we're going to learn how to do a PDF to JPEG conversion using Soda PDF's free PDF to JPEG converter tool. Follow the instructions below and you'll be all set in no time!
How do you save a PDF file as a JPG file?
Head over to the Soda PDF website

Navigate to the Online Tools menu -> click on View More

Select the

PDF to JPG

icon from the array of tools

Drag and drop your file into the browser area to upload it and the tool takes care of the rest! You don't even have to click "convert" or anything to process the image.

You can then download and save your newly converted file, which will be in JPG file format.
That's all there is to it! With Soda PDF's array of online PDF functionalities, you can manage your PDF documents however you like. You can edit, save, convert PDF to JPG online, and more. Best of all, these online, one-click PDF tools are FREE*!
Note that with these functions (including JPG format to PDF convert and the other way around) you can only work with one file at a time.
The process couldn't be easier though – simply find the solution you need, choose file (select the PDF or image you want to work with from your hard drive), upload your PDF or image and you're good to go.
A look at PDF vs. JPG files for sharing
You'll commonly encounter both the PDF and JPEG formats around the web when it comes to sharing documents. Many digital documents are actually scans of hard copies, which means you'll see a lot of image file formats like JPEG and PNG when you're sharing or downloading documents.
Both PDF and JPEG are good formats for sharing over the internet because of their low file size. They can also be opened by many pre-installed or default apps across many platforms.
When it comes to editing or manipulating documents, there's a big difference between a JPEG and a PDF file, however. JPEGs are essentially compressed (or lossy) images, which means they are of a bit lower quality than the original photo or hard copy scan.
Bottom line: a JPG image is not a great file format for reading documents. Convert your image to PDF for better results.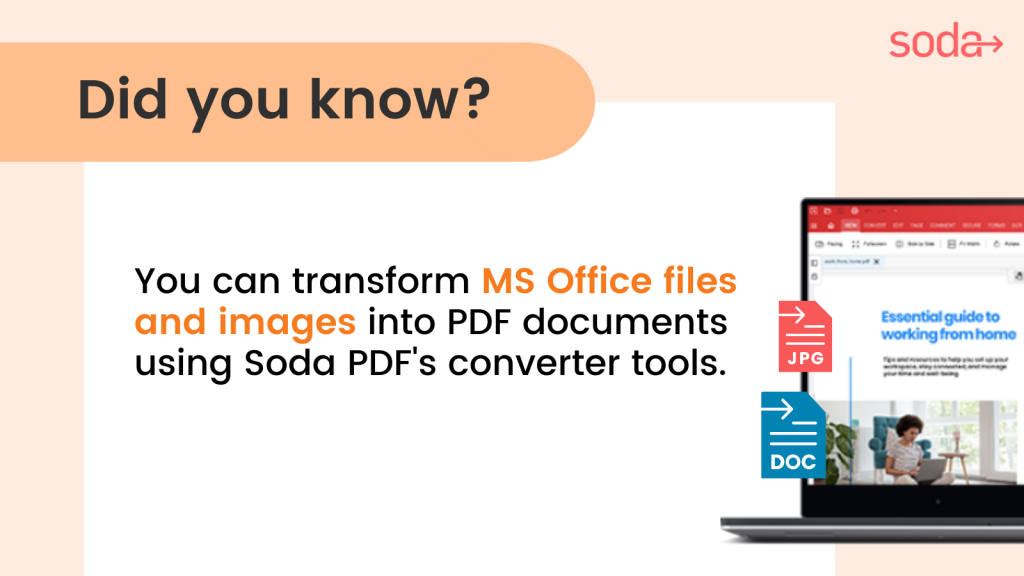 PDFs tend to be of better quality, and they have the added benefit of being more easily edited with common software than JPEGs, which require image software like Photoshop. PDF pages also tend to be clearer and easier to read.
That means a PDF file is going to be your format of choice for editing documents. However, sometimes you'll want to go from PDF to image files like JPEG, which is why we wrote this handy guide.
Are there limitations to Soda PDF's free online functions?
There are. With these free solutions on the Soda PDF website, you can only work with one file at a time, and there's a limit to the size of file you can work with. It's just an easy way to do one-off tasks like convert PDF documents, convert from PDF to JPEG, or go from JPG images to a PDF file.
There's also a daily limit for using them. They are designed for people who just need a quick, free and easy way to manage their document or image, such as doing a PDF to JPEG conversion.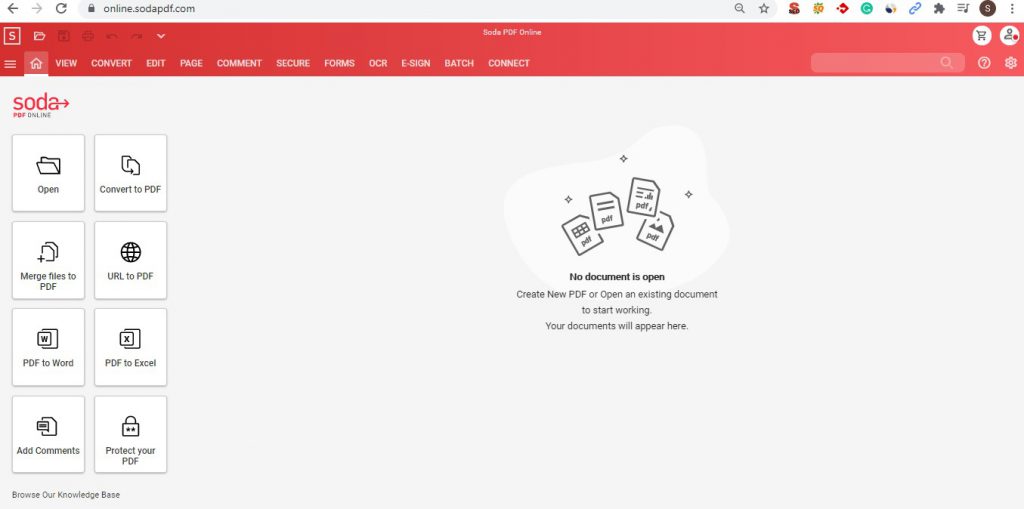 If you're looking for more power and functionality, you can always check out Soda PDF's full online version, or download and install its counterpart desktop app.
What is the difference between these different Soda PDF versions?
In the end it comes down to features. Soda PDF freely accessed website-based functions are simple, one-off solutions to people searching for PDF file management.
*Soda PDF's online tools are free, but may be subject to daily or hourly usage limitations.
To get the most out of your Soda PDF experience, we also offer both online and desktop versions of our document management software solution. Note that the functions available on the Soda PDF website are separate from either of these fully-featured applications.
Instead of using individual tools, you can download and install Soda PDF Desktop to work offline, or access Soda PDF Online from any device with internet access.
Remember, each tool on the site is designed for converting one file from a JPEG image to a PDF (or whatever else they need). These are always free and are not part of the account registration or 7-day trial process.
Soda PDF Online is a full-featured application and mirrors the Windows desktop version almost exactly. With these applications, you'll enjoy more features, including the conversion of multiple image formats, convert to PDF functions and merging several files into one.
Is Soda PDF really free for PDF conversion?
The website-based tools are, and they can do more than save a PDF as a JPEG. You'll only be working with single files when you use these.
Remember, the desktop and online apps have a free trial as well. You can download and install them quickly and easily and work offline with the desktop version if you need to.
These will allow you to work with multiple files, so you can convert batches of documents of various image formats into several converted PDF files.
What about Mac users?
If you're using a Mac (or just not using a Windows 10 machine), you unfortunately won't have access to the Soda PDF Desktop version. It's only available for Windows platforms, which is why we designed Soda PDF Online, a web-based version of our PDF document management software that we recommended for Mac users.
If you're just looking for a quick and easy way to save your PDF as a JPEG, use an online tool like PDF to JPG converter on the Soda PDF website. It's a simple drag-and-drop process that will allow you to select and convert your JPGs with one click.
This will work no matter what platform you're using – Windows 10, macOS, Android or iOS. You won't need any other programs. All you'll need is a browser and an internet connection.
If you're looking for more functionality and you're a Mac user, try the Soda PDF online version. You'll still be able to save files to your hard drive when working with this version.
How do I convert JPEG to PDF offline?
If you want to convert a PDF to JPG locally (on your computer's hard drive), you can download and install a desktop version of Soda PDF. It will allow you to save and edit your file offline if you need to.
You can also save your PDF files and send them to your printer if you prefer to read your PDF pages on paper. We don't recommend doing a PDF to image conversion (that is convert from PDF to a JPEG) if you want to save and print your document.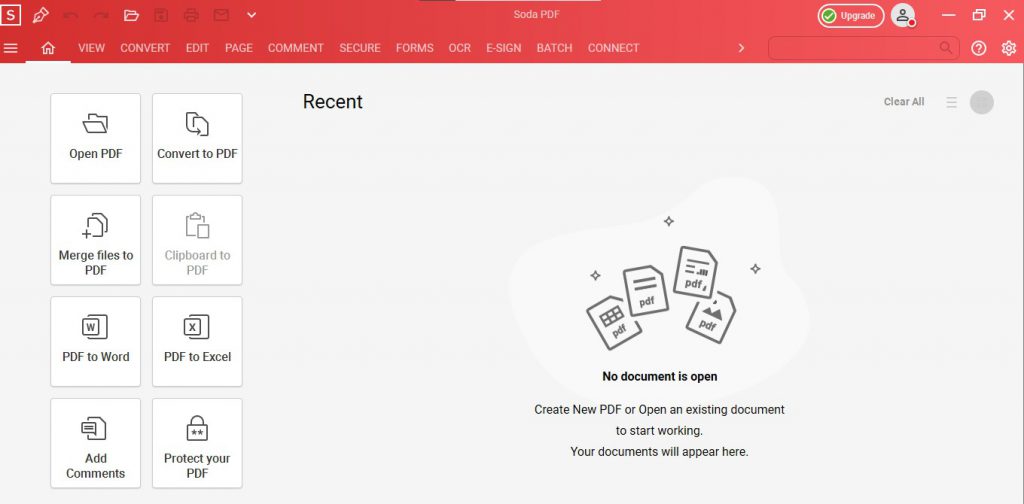 With the Soda PDF Desktop app, you'll be able to work with a bigger file size, and upload to the internet as needed. You can also work with more than one file at a time. It only works on Windows platforms, however.
To get it, Go to Soda PDF download page and follow the instructions to save the program file and install the software.
It should only take a few minutes. You'll be able to easily convert a PDF document to JPEG offline.
If you're using a Mac and want to save, edit, convert JPEG images and print your files, you're better off with the browser-based version as we mentioned before.
You can still use it on your computer, but you'll just need an internet connection!
Is Soda PDF safe to use to save a PDF as a JPEG?
Soda PDF's website is used by millions of people every month, and it is 100% secure. It uses SSL encryption to ensure that your images and documents and data are not compromised, and removes all files after processing, including JPEG files.
After you select the PDF, upload your file to the site and it's done converting, you can always save the JPEG file to Google Drive if you'd like to have it easily available for sharing.
If you want to work offline to process your PDF and JPEG files, you can always download the Soda PDF Desktop software for Windows.
You can save the file you want to your computer's hard drive and work on it without needing to be connected to the internet.
It allows you to do all your work offline, from image-to-PDF-convert, compressing to merging PDFs, and more. As we've said, it features a free trial and is extremely easy to use.
Soda PDF: The best alternative to Adobe Acrobat
By following these quick and easy (and sometimes free) methods, you'll be able to convert PDF files to JPEG images in no time on any platform, from Mac to Windows.
Remember, you can also save and print your documents any time after you're done.
With all these easy-to-use functionalities at your disposal, there's no reason to be sharing large documents in PDF format anymore.
If you want to convert images from PDF to JPEG to lighten the load when sharing your documents, use Soda PDFs free website tools, online or offline software to ensure your document sharing is quick, easy, and without headaches!
Review
Blog Name
How to Save a PDF as a JPEG for Free
Description
Save a PDF as a JPEG for FREE! Try Soda PDF's easy-to-use PDF to JPEG online converter tool to easily save PDFs as JPEG images in seconds.
Author
Publisher Name
Publisher Logo