Top 5 Social Media Management Tools
Are you looking for some smart tools or tips to make your social media planning easier?
Well, you've come to the right place! We reviewed the top 5 social media management tools for you. See which ones we recommend you use for scheduling posts, tracking campaigns, and much more!
Ready to review the top 5 social media management tools? Here they are:
The best Social Media Management tools
5. Falcon.IO
Looking for a simple and straightforward social media management platform? *Falcon swoops in.*
Falcon.IO is probably the easiest tool to use if you need a centralized platform to work on your social posts. You can schedule posts across multiple channels, check on the performance of your campaigns, and manage all of your social media accounts on their easy-to-use interface.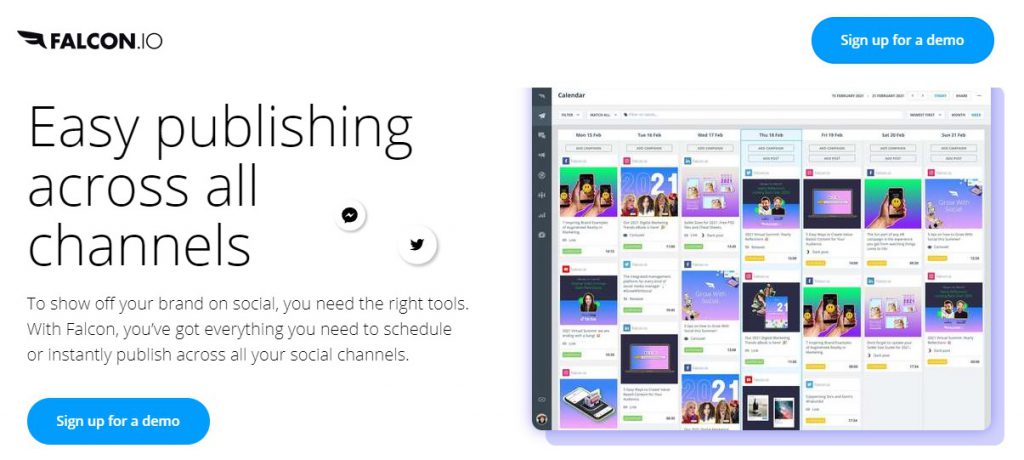 What we liked most about Falcon was the fact that they have a built-in photo editor to their platform, allowing you or your team to use one simple platform to not only manage posts, but create them too!
Speaking of teams, Falcon also provides a social inbox for any and all mentions your brand will get on social media. Plus, they offer some collaboration tools that should help make managing any campaign an easy task.
4. Sprout Social
Next on our list is Sprout Social, the platform that allows you to organize your social media accounts in a more professionalized business setting.
What do we mean by that? Well, with Sprout Social, you can track pages of interest such as Facebook groups or relevant Twitter or Instagram accounts that might offer you even more insight to what your competitors or competition are up to.
Get inspiration for your next post or campaign based on analytics and information gathering tools that you can only find on this platform. Make smarter social media B2B related posts based on your target demographic's interests and likes.
Best of all, Sprout Social also provides a clean and simple interface when dissecting the analytics of your posts and campaigns. You can quickly find out what demographics are most interested in your posts and quickly adjust your strategy as you see fit.
Furthermore, with Sprout Social, you can also keep track of mentions or tags that your brand appears in and can easily have your support agents or social media managers respond to your clients or followers in a timely fashion.
If you're looking for a more analytics and strategic approach to your social media management, we recommend using Sprout Social.
3. Hootsuite
The OG social media management tool, Hootsuite is the classic choice for managing all of your social accounts.
Hootsuite offers social media managers a platform where they can schedule posts, check out analytics, and even export reports to let everyone else in the company know what's working and what's not.
You can get started for FREE with a 30-day trial which allows you to get a sense of how Hootsuite works and why it's considered one of the best social media management tools despite the stiff competition as in, our other suggestions for social media management tools. More on that below.
Furthermore, Hootsuite offers a cost-effective and competitive Team plan in which you can add up to 3 users to your Hootsuite platform and even message each other on that platform to stay on the same page or, uh, post.
You can also easily customize the analytics that you want to keep track of, such as demographics and geolocations, as well as comment or reply to your customers or followers with instant notifications if and when your brand or product or page gets mentioned.
If you're looking for a simple and effective social media management tool that allows you to schedule posts across multiple social media platforms, export reports, and even help you boost posts on a monthly or daily basis, we strongly recommend using Hootsuite.
NOTE: Stay on the Hootsuite homepage and you might be lucky enough to get offered a 60-day trial instead.
2. Loomly
As mentioned, Hootsuite has faced a few competitors over the years, thus next on our list is the popular Hootsuite alternative, Loomly.
Ever feel like you and your team run out of social post ideas, or worse, repeat the same content over and over? It's ok to admit it because that's where Loomly can help.
Loomly not only helps your brand with their social media management, but Loomly is a brand success platform in which they go the extra mile to provide you and your team with even more tools than just simply scheduling and tracking posts.
Loomly suggests post ideas for your marketing team so that you no longer need to be the sole creative brain behind your accounts. Plus, Loomly has a library where you can easily store all of your graphics for your posts in one centralized location rather than on several hard to manage and track tabs.
Furthermore, Loomly will also suggest the ideal times to publish your posts so that you and your brand get the exposure and generate the interest you're looking for at exactly the right time.
To learn more about Loomly and what sets them apart from Hootsuite's platform, for example, check out this video:
1. MeetEdgar
If you're looking for a social media platform that you can sign up for and it'll handle the rest, then we suggest you MeetEdgar.
MeetEdgar is the set-it-and-forget-it type of social media platform. And trust us, you won't be disappointed by what this helpful tool can do!
MeetEdgar essentially suggests evergreen content for you and your team, allowing you to simply pick and choose what type of content you'd like to see published across your social media accounts.
Want to reshare a post?  MeetEdgar will handle that for you and then some. What makes MeetEdgar such a strong social media management tool is its A/B testing.
For example, let's say you're planning a campaign and have two great ideas for posts but ultimately you can't decide. Let MeetEdgar post these two for you, then get the data from this A/B test in real-time!
That's right, you can simply log in to your MeetEdgar account and take a quick peek to see which post is performing the best. Then, you can add the top-performing post to your library and automate MeetEdgar to schedule and publish that evergreen content for you at the ideal time. Now that's efficiency!
Still not convinced about MeetEdgar? Well, how about this sterling review from a social media and SEO expert himself, Mr. Neil Patel:
Try MeetEdgar for FREE with a 7-day trial. Why just one week compared to a month? Well, try out their platform and you'll see the difference (and vast improvement) to your social media strategy right from Day 1.
Soda PDF: The best document management software
Lastly, we highly recommend using Soda PDF for all your document management needs.
Soda PDF is a powerful and easy-to-use document management software solution that's available offline or online. You can quickly edit, create, merge, split, convert, compress, secure PDF documents in just a few clicks. Soda PDF also offers advanced features such as E-Sign and OCR tools to help you and your team quickly accomplish their document goals in seconds.
For example, need to quickly build a year-to-date report of all your social media efforts? Simply export your data from one of the tools we've suggested above and then merge all of these Excel, Word, or even PowerPoint files into one PDF document.
PDFs are the document professional standard as when opening one of these documents, you'll see the content as if it were a printed piece of paper. Basically, PDFs are a high-quality form of documentation that is used in several industries from banking to government agencies, universities to construction firms, and much more!
So be sure to get the best PDF document management solution on the market: Soda PDF! Learn more about our Business Solutions and how we help various industries and companies simplify document workflows for good, or try Soda PDF Desktop or our web browser software, Soda PDF Online, today!
Best of all, when you create a new Soda PDF account, you'll get access to our entire suite of PDF tools and services for one week. Go on, try our software solution via our Desktop application (Windows) or Online software (MAC). Get started today!
Review
Blog Name
Top 5 Social Media Management Tools
Description
Top 5 Social Media Management Tools. Manage all of your social media channels, track campaigns, and much more using one of these platforms.
Author
Publisher Name
Publisher Logo