Why and How to Convert a Webpage to PDF
Convert everything to PDF! You've definitely read about how you should convert contracts, essays, resumes, financial reports and more into PDF format. But did you know that there's a list of reasons why you should convert your webpage to PDF? Well, there is, and we're going to tell you why.
There are so many benefits to a format like PDF. You can digitize paper documents, view PDFs universality on any device, set passwords, restrict permissions on important files, and much more.
When you convert from a webpage to PDF, that webpage becomes available to edit, share and archive.
Before you can begin to play around with your webpage, you'll need to convert it into PDF format. With Soda PDF, the process is quick and painless!
Click below to watch our tutorial teaching you how to convert from webpage to PDF using the website's URL.
If you want to know how to convert webpage to PDF right now, here is how:
1.Go to the webpage and copy the webpage URL to your clipboard
2. Open your Soda PDF application. Then go to File > Create > Create From > URL and paste the website URL into the box which says: "Type the URL you would like to use." Finally, click "Create."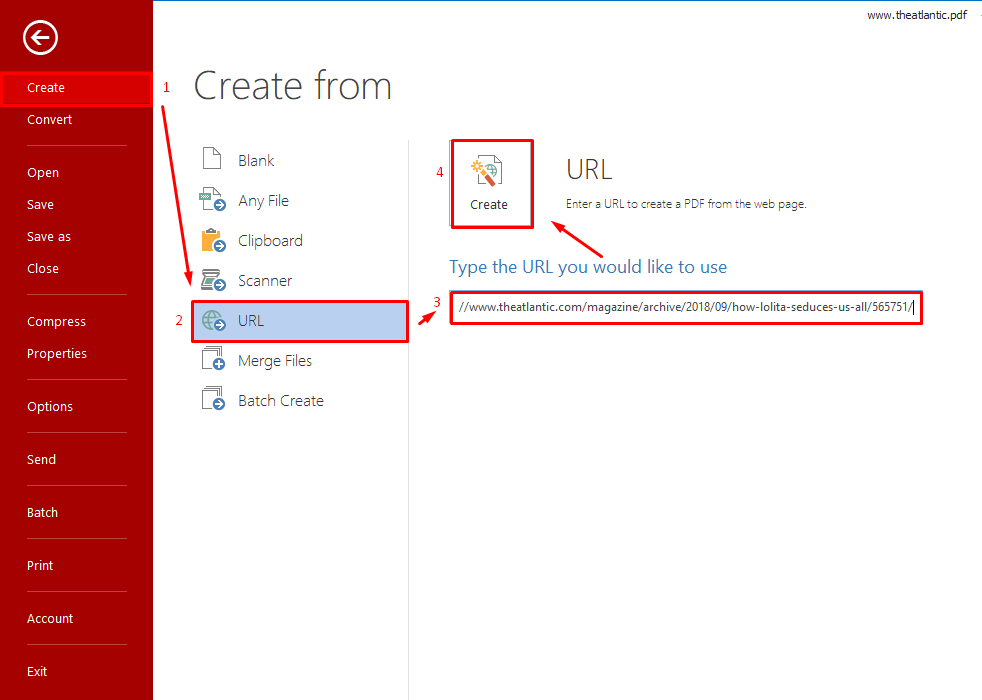 3. When you click "Create," Soda PDF will automatically convert the webpage and open the converted PDF.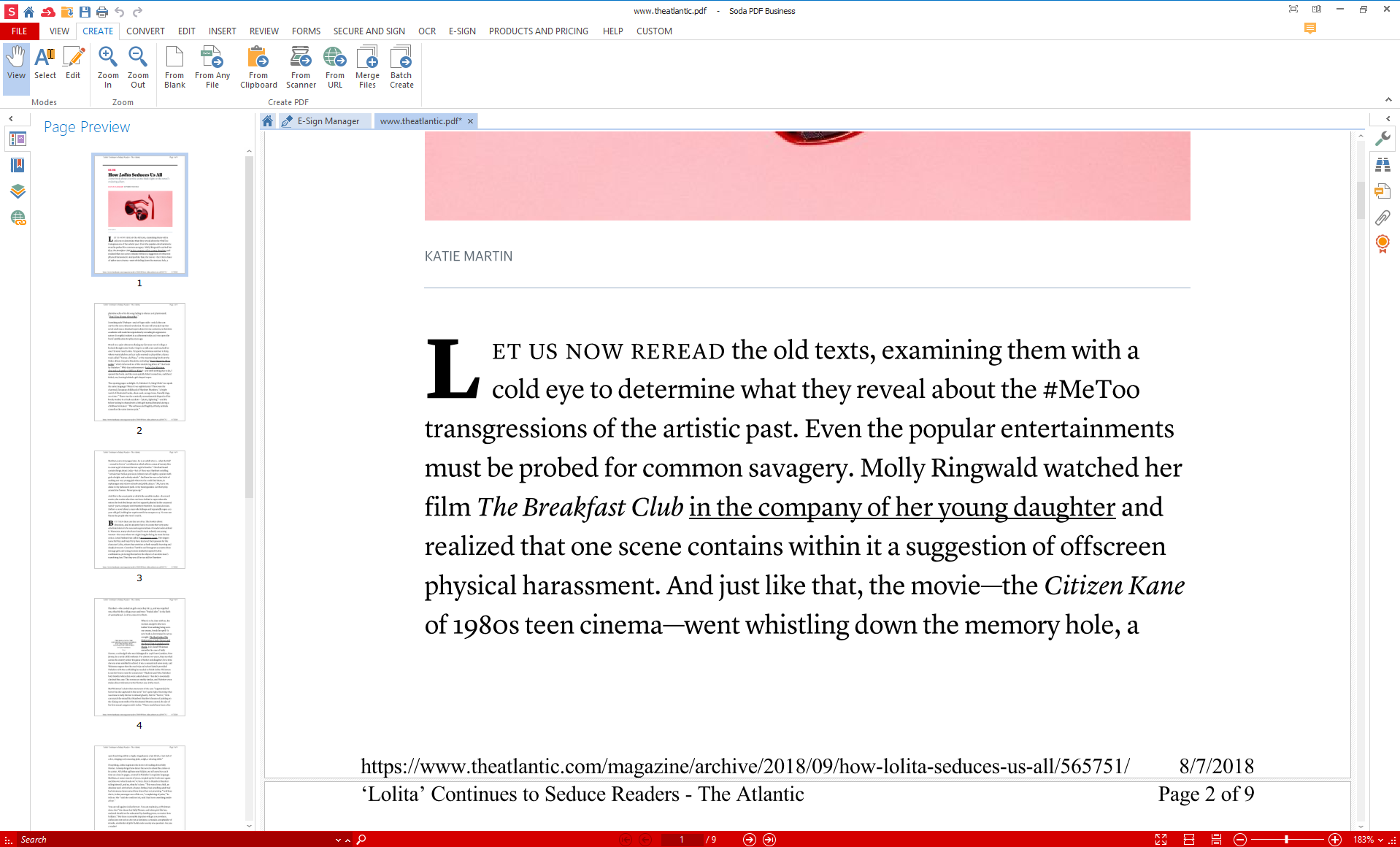 Now that you've seen how to transform your webpage to PDF, it's time to discover all the wonderful benefits! Because, yes, there's a reason for doing this.
Tip: We also have an online webpage to PDF converter here! 
Read Offline
One of the downsides of accessing webpages is that you need to be connected to the web. While WIFI makes internet connection easier nowadays, sometimes being online is not always possible. Sometimes internet access isn't available while you're riding the metro or spending the weekend in your cabin up north. Or maybe you've just reached your data limit for the month right when you're trying to research for your school project.
When you convert your webpage to PDF, that webpage can be accessed offline like any other document. A desktop PDF reader like Soda PDF doesn't need internet access for simple reading and editing capabilities.
Plus, PDF documents can be read on tablets and smartphones just like any eBook or EPUB file. So, you can read the article you found from the Atlantic even when you're riding the subway!
Archive
PDF format is known for its archiving capabilities. PDFs can be saved and shared on any device or operating system while maintaining document content, layout and quality.
So, when you convert your webpage to PDF, you can then easily save that webpage to a cloud drive or in a folder on your desktop. This is especially useful for students who may be researching using academic journals online. As a PDF, your webpages can be stored and accessed from anywhere.
As we mentioned above, archiving preserves the content and layout of documents. It's easy for people to hack into websites and change the content or layout of HTML. As a PDF, you're sure that your webpage remains the same.
Check out our full blog post of archiving PDF here.
Annotate and Highlight
Online articles are intriguing to read, but not so easy to interact with. They're made for viewing purposes and may allow you to share them on social media or through email. With your webpage in PDF format, you can easily highlight passages, add comments, and use an array of markup tools.
Again, this is useful when using webpages for research purposes. You can markup your document as you would any printed article, textbook, or research paper. The vast amounts of information we encounter on the web becomes much more useful to us when we can interact with it, share it, and use it.
Edit
With Soda PDF, PDF documents become completely editable. You can edit the content, font, layout, links and images in PDFs. Converted PDF documents are no exception.
Converting your webpage to PDF allows you to edit that webpage. It won't actually change the published webpage itself, but it'll allow you to play around with the content or layout of the PDF version. Maybe you like the layout of a webpage and want to use the layout for your own content. You can use Soda PDF to erase text from the converted PDF and insert your own.
Maybe the webpage has images with text. Use OCR to recognize and edit any text within images. You can even extract those images.
The editing capabilities are endless. Apart from content, you can change the layout of the document, split the webpages into separate PDF files, or merge the document together with others and create a portfolio.
Essentially, the webpage becomes yours to play around with!
Check out how to edit text in a PDF here, and how to edit other elements in a PDF here. 
Now that you've seen how easy and useful it is to convert your webpages to PDF, you should try it out for yourself. Save online articles so you can read them on-the-go or highlight and annotate the content of webpages so you can remember the information later.
Download Soda PDF and start converting!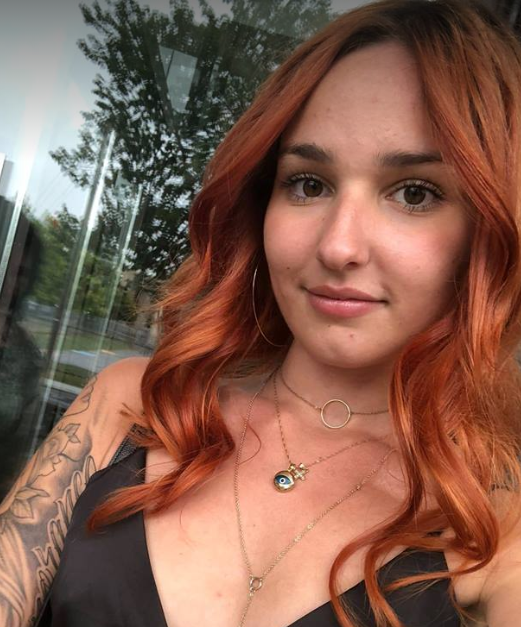 Alyssa is an English Literature graduate and the current copywriter and social media content creator for Soda PDF.