Best FREE PDF Converter: Soda PDF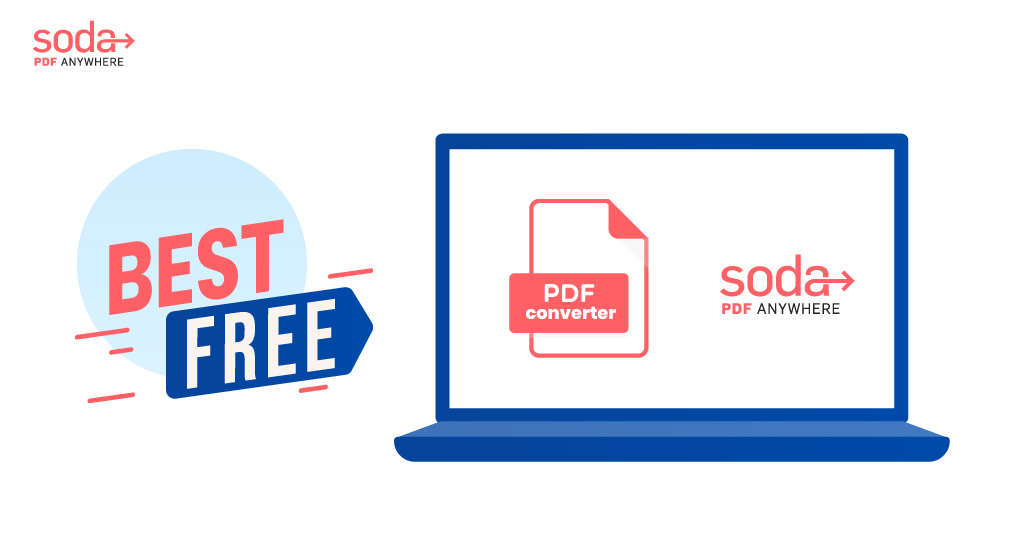 Looking to convert to or from the portable document format for FREE? Try Soda PDF's PDF Converter online tool!
Convert various file formats such as Word, Excel, and PowerPoint files into PDF, or convert PDF to these MS Office files, as an image, or as a URL in seconds.
Converting documents to or from PDFs is a simple process thanks to Soda PDF's easy-to-use conversion tool. Best of all, the format and layout of your document will remain intact even after conversion.
Ready to get started? Here's how to use the best FREE PDF converter on the market:
STEP 1: Go to SodaPDF.com & Select PDF Converter
To use our FREE PDF Converter tool, simply go to sodapdf.com. From the home page, simply hover over Online Tools from the main menu at the top of the page. The following drop-down menu will appear: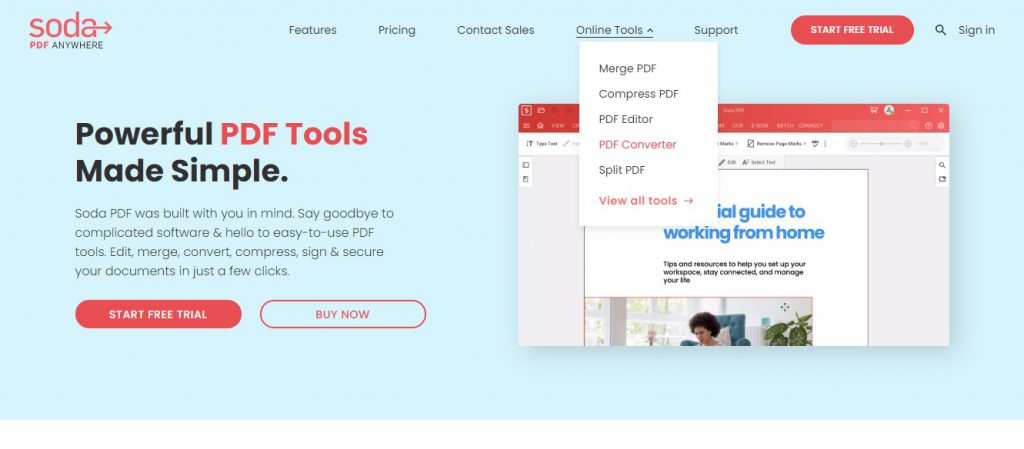 Click on our PDF Converter online tool. From there you'll be led to our PDF Converter page.
NOTE: You can also go directly to our PDF Converter online tool without passing by our home page by simply clicking here.
STEP 2: Choose File & Convert To or From PDF
Welcome to our PDF Converter online tool! Be sure to bookmark this page for future use for all your PDF conversion needs.
From here, simply click on the CHOOSE FILE button in the middle of the page to start the PDF conversion. You have two options for converting your document: either converting from PDF or to PDF.
OPTION 1: Convert from PDF
Need to convert your PDF document into another file format? No problem! Simply click CHOOSE FILE, then search your computer for the PDF you wish to convert.
You can also drag-and-drop your PDF document directly from your desktop as well. Once your PDF document has been selected and uploaded, choose from one of the file conversion formats:
As you can see, you can convert from PDF to the following file formats:
Word
Excel
PowerPoint
Image
HTML
Select the file format you wish to convert to and click CONVERT FILE:
Our FREE PDF Converter will begin to convert your PDF document to the file format you've selected. In a few seconds, your PDF document will have successfully been converted into a .docx file:
STEP 3: Download Your New Converted File
Once our FREE PDF Converter tool has successfully converted your file to the format you've selected, you can download your newly converted file format by simply clicking on DOWNLOAD FILE.
Yup, it's that easy!
OPTION 2: Convert to PDF
Want to convert an MS Office file into a PDF document? Or perhaps you have an image or an HTML file that you'd like to convert into a PDF document instead?
No problem! Our PDF Converter can convert any of these file formats (and many more!) into a PDF document just as fast as you could convert from PDF too!
Simply drag-and-drop the file you wish to convert to PDF from your desktop, or click on CHOOSE FILE to search your computer for the file you wish to convert to PDF.
Once the file has been uploaded, our PDF Converter tool will automatically begin to convert the file into a PDF:
STEP 3: Download or Preview Your Converted PDF Document
Once your file has been converted, it's ready for download! Simply click on the DOWNLOAD FILE button to retrieve your new file format. You can also choose to PREVIEW FILE to take a look at your new PDF turned .docx file before downloading.
Et voila! You've just converted your PDF document for FREE!
Want more PDF tools? Try our Desktop & Online software!
Our online PDF Converter tool is just one of the many online tools we offer. You can easily split, merge, convert, compress, and E-Sign PDF documents for FREE!
Looking for a complete online PDF software solution? We also provide our users with our fully-featured Soda PDF Online software, which allows anyone to edit, create, merge, split, E-Sign, and even use optical character recognition (OCR) tools to complete their document goals from anywhere!
Looking to work on your documents offline? Soda PDF Desktop is also available! That's right, you can use all of our powerful PDF tools right from your desktop. That means you can add footers, headers, edit text, combine multiple and various file formats into a single PDF document or split individual pages into new PDF documents fast & with ease.
Be sure to use Soda PDF for all your document needs. No matter what your document goals may be, our powerful, one-click online PDF tools can help you get the job done fast. Or, if you're a Windows user, you can download Soda PDF Desktop to organize your documents with ease. Alternatively, if you're a MAC user, you can use Soda PDF Online from any web browser to get the job done fast.
Soda PDF: Simply. Powerful. PDF solutions.
Review
Blog Name
Best FREE PDF Converter: Soda PDF
Description
Best FREE PDF converter: Soda PDF! Convert to PDF or convert from PDF in seconds using Soda PDF's FREE easy-to-use PDF Converter online tool.
Author
Publisher Name
Publisher Logo