Best PDF Editing Tools: How to Modify and Review Your Documents
PDF Editing Tools – Overview
Whether you're a professional or a student (or both), you know how important it is to have proper PDF editing tools you can count on. That trusty highlighter tool, the sticker notes, the text editor, an array of font colors to choose from – what more could you want?
As a matter of fact, there might be a few editing tools you've been missing out on. Luckily, we've compiled a list of the best PDF editing tools that will help make reviewing your documents a breeze.
Markup and Sticker Notes
Gone are the days when you'd have to print out your documents and use an actual highlighter to highlight important passages. Most PDF software are equipped with basic markup tools, including highlighting, underlining, and strikethrough.
Highlighting is available in any color you can imagine, and it's done with just a click of a button. If you prefer underlining, that works too! You can even use the strikethrough feature if you want to remove text but still want traces of it to remain.
Another useful PDF editing tool is the sticker note. It allows you to insert your personal comments anywhere on the page.
Digital sticker notes are a great alternative to real post-its! They don't take up any space and they don't fall off (they usually appear as a small icon that can be expanded if necessary)! You can even hide the comments altogether if you don't want them to clutter your page.
Text and Font Editor
If you want to add text or make changes to the existing contents of your document, you'll need a reliable text editing tool. Most PDF software offers editing features that work just like a word processor. That means you can make changes to the text just like you would in MS Word.
You can also play around with the font color, size, and style, giving you full control over the content of your PDF file. Normally, the font styles available are the same ones you would find in MS Office.
Learn how to add custom fonts in Soda PDF here.
Whiteout and Redaction
If you're using an advanced PDF software, chances are you'll have access to whiteout and redaction features. These tools allow users to permanently remove text and images from PDF files.
The whiteout feature is generally used to simply erase any text, annotation or object from your PDF file.
The redaction feature is used to black out confidential information. Both are permanent and cannot be reversed.
Page and Image extractor
Some other PDF editing tools you might never have heard of are the page and image extractors. What in the world are those, you ask? Allow us to explain.
The page extracting feature is used to extract certain pages of your PDF file. A new file will be created containing only the pages you've decided to extract.
The image extracting feature is used much in the same way. It allows users to extract images from a PDF and saving just those images in a separate file.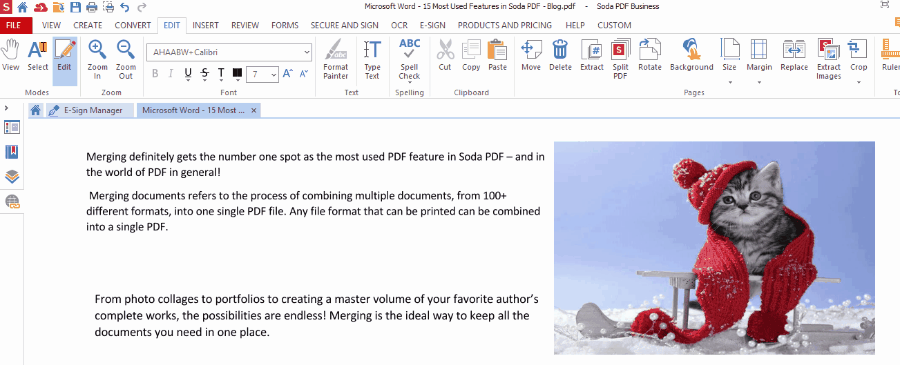 Online PDF Editor
These features work great when you're using a desktop application, but what happens if you need to work on your PDFs on the go? A fully functional online PDF editor such as Soda PDF Online is the only way to go.
Soda PDF Online replicates its desktop version, allowing users to use most features through their web browser.
Whether you want to add or edit text, review and annotate your work, add sticker notes, use whiteout and redaction – it's equipped with all the PDF editing tools you need to get the job done wherever you are.
You can also download Soda PDF Desktop here!