How to Make a PDF Editable With Soda PDF
You receive an email containing that crucial document, the magical PDF that will take your business to the next level. This PDF contains a proposal where every detail needs to be fine-tuned to perfection. As you open the file and try to make changes you find yourself wondering how to make a PDF editable. 
By default, these PDFs open in your web browser. In the past you've received surveys you could easily fill out. This time, you click and…nothing happens.
While this may appear to be another hurdle on your quest for growth within your business or personal life, things are better than they appear. PDF is a secure format requiring specific tools to make just about any changes to your document.
Your PDF is supposed to be hard to edit (without the right tools).
It's now 2020 and several apps make changing a document is pretty simple. However, we have it on good authority that most people don't keep PDF editing software on hand (although we DEFINITELY think they should).
What does editable even mean?
The Oxford Dictionary provides a few definitions for the verb "to edit". With regards to computers it reads, "to make changes to text or data on a screen".
Making a PDF editable means being able to make changes to the content of your document. No worries, we'll explain how this is done.
The short answer is you'll need a PDF editing software (like Soda PDF) to modify your file.
There are many applications that can open and display a PDF file, these are known as PDF Readers. Using a PDF reader, like Adobe Acrobat, you can interact with a document, but cannot make any changes to it.
As an example, with only PDF reader installed, you could answer the questions in a form, but couldn't edit the questions.
Using a PDF editor such as Soda PDF 12, you can not only make most documents editable and turn them into PDFs in just a few clicks, you can also create form questions and add the fields that will collect your answers.
Creating an editable PDF
The best part of editing PDFs is that it's a simple 2-step process.
Step 1: Create your new PDF.
Step 2: Start editing your PDF.
We know this doesn't say a lot, but in truth that's all there is to it. A PDF open in an editor like Soda PDF is ready for edits.
PDFs are made up of "document elements", the different objects (text, images, form fields, etc) that make up the content of your page.
There is a whole slew of features available in Soda PDF that let you edit each kind of PDF element. Our knowledge base covers the "how-to" for each tool.
There are a couple of other things to consider.
First we'll look at what you can edit in a document. Then, in the remaining sections in this article, we'll take a look at editing forms, document security settings and editing the text found in images.
What can be edited in a PDF?
Each page of your PDF is kind of like a container, where each element that makes up your document is carefully arranged.
PDF pages are very similar to the slides in a PowerPoint presentation. Instead of having pages that flow together like in Microsoft Word, each page is its own entity.
Soda PDF 12 makes editing, and viewing, all of the pages contained within your document easy. Simply click on the PAGE tab within the application and then you can select individual or a range of pages to customize to your needs:
You can insert or extract pages, replace or resize them, move them, change the background on all or specific pages within your documents and more!
Clicking on the EDIT tab will then present you with the editing tools you need to customize individual elements on each page of your document.
PDF elements can be the text that you see, images, links and anything else on the page. You can think of the term element as a catch all for the pieces of a PDF.
Editing your PDF goes beyond the content of an individual page. Whether the page order needs to be updated or you want to combine two files together, it's all possible.
Working with PDF forms
Fun fact: Our very last blog post took a look at how to make your PDF fill-able with form fields. We went into detail showing you how to create a form.
Forms are special because there are 2 ways to perceive the idea of editable. You as the document creator, who needs to make changes to the entire document.
You want anyone receiving your form to also make "edits". They need a document where they can modify their answers and change the data housed in the form.
Using a PDF editor you can create your form's layout. This will be the "non-editable" part of the document.
For your end users, adding those form fields is the answer to how to make a PDF editable.
You may be wondering what happens if the person who receives your form has a PDF editor. This is where document permissions comes into play.
Document Security: Should the PDF be editable?
You can edit the security permissions in your PDF, giving you control over what changes can be made.
In Soda PDF you can easily get to these tools.
First, click on the SECURE tab:
Then click on Restrict Permissions. The following options will appear:
Password Security
Secure Permissions
You'll first need to turn the toggle on if you would like to add a password or security permissions on either tab.
Once the toggle is on, you can then start to enter a password:
You will only be able to click on APPLY to add the password to your document until you've filled out both the Password and Confirm Password fields.
Want to secure permissions so that you, or someone else with your password, can make changes to this document at a later point? You'll then be able to choose what changes are allowed.
A window will open where you can define what changes you'll permit in this document. This includes being able to fill in form answers.
When someone goes to make a change you've blocked with a password, they will see this message:
You can remove the security settings at any time as long as you have the password. Using permission settings you can keep guarantee that your PDFs are kept safe and secure.
How to make the text in an image editable
A common use case for PDFs is creating digital copies of paper documents. Wither using a phone camera or a scanner, you can turn that paper into a file that your PDF editor can work with.
The first time you encounter a scanned document, it will look like a regular PDF. You'll see text and other standard stapes of a completed file, only when you try to make changes you'll see a red border surrounding your document like this:
Whenever you see a red border it means one thing, you are dealing with an image. When you create a document via scanning, each page will be made up of a single image.
Thankfully apps like Soda PDF provide the technology necessary to unlock the text you see, but cannot edit. This tech is known as OCR (optical character recognition).
We've got a full guide on how to use OCR available. here's a quick version:
Open the OCR Tab.
Choose Document
Select the Pages to Recognize:

All
First
Last
Range

Click RECOGNIZE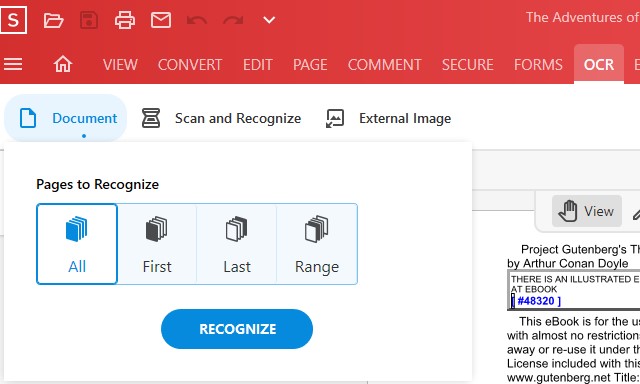 Soda PDF's OCR tool will then begin to start to recognize the text within the image, or in this case, the scanned document:
After a moment, the document will be recognized and you will now be able to edit the text in your PDF. This explains how to make a PDF editable after creating from a scanner.
What is the ultimate tool to make a PDF Editable?
We're biased, but the clear answer to us is Soda PDF.  Everything we touched on in this article is available for use in the app.
Soda PDF has been at this for almost 10 years. We've used that experience to make sure that our tool makes sure that you can modify PDFs, bringing your vision to life. Whether you want to create forms, edit scanned documents or anything else, Soda PDF will be there for you.
You can download the Soda PDF Desktop software for FREE. You can also login to Soda PDF in your web browser and access all your favorite features from any device. Change the way you see PDFs. With Soda PDF software, modifying PDFs has never been easier.
Review
Blog Name
How to Make a PDF Editable With Soda PDF
Description
Sometimes you just need to make quick changes to your document. Welcome to our guide on how to make a PDF editable using Soda PDF.
Author
Publisher Name
Publisher Logo