How to Convert Word to PDF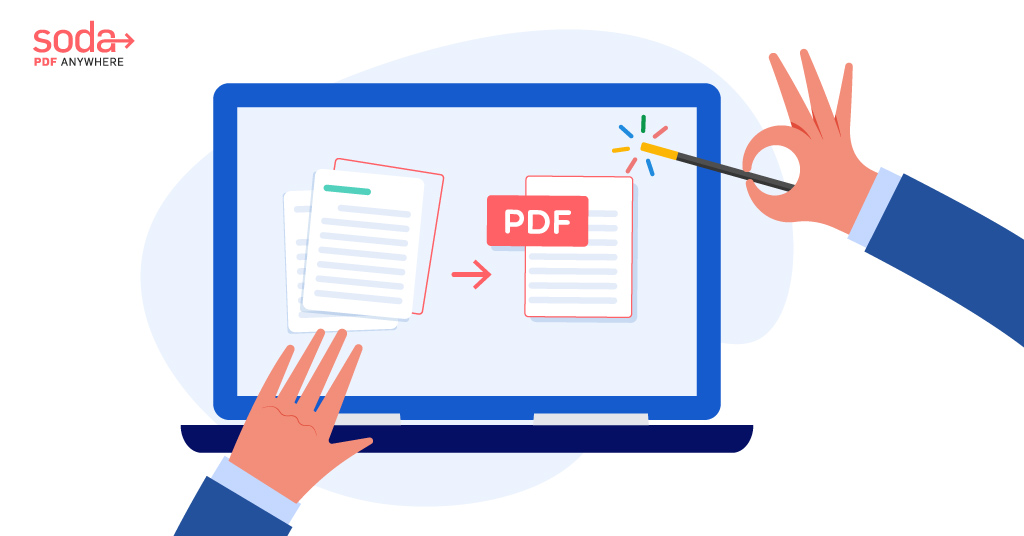 Looking for a guide on how to convert a Word document to PDF? We've got you covered!
In this article, we'll show you how to convert from Word to PDF in a flash with Soda PDF.
Why convert a Word document to PDF?
Converting a Microsoft Word document (.doc or .docx) to a PDF file is a growing necessity as more and more people share documents on the web.
A Word document is normally created with Microsoft Word, part of the Microsoft Office suite of programs.
However, many people also use PDF as a document format – especially Mac users.
That means sooner or later you're going to need to convert from a Microsoft Word document to a PDF file.
Use Soda PDF's Word to PDF online converter to quickly transform any Word .doc or .docx file into a readable, editable PDF document in seconds! Best of all, it's FREE* to use and you can work directly from your web browser, no installation required.
Here's a quick tutorial on how to convert from Word to PDF using Soda PDF:
If you have Microsoft Office, you can simply open a Word file and save it as a PDF using that program or easily convert and modify your eventual PDF document using Soda PDF.
But if you don't (if you're working on a Mac, for example), then you'll need to use Soda PDF to quickly create PDF files from Word docs in seconds.
How to convert from Microsoft Word to PDF using Soda PDF
Here's how to do a document conversion on the Soda PDF website:
Go SodaPDF.com.

Select the Online Tools menu from the home page. Click on View More.

Select

Word to PDF

from the array of icons.

Drag and drop the Word document file you want to convert. It will automatically start to convert it to a PDF file.

Download your converted document when ready and view it in your browser.
What is Soda PDF?
Soda PDF is a suite of PDF tools designed to cover all of your PDF management requirements. It's more than just a PDF converter.
Using one of Soda PDF's fully-featured software solutions (Desktop or Online), you can easily convert, edit, sign, merge, compress PDFs, and much more!
Here's a quick summary of how you can access Soda PDF in 3 different ways:
Soda PDF's FREE* Online Tools – one-off web-based tools – works on all platforms (Windows, Mac, etc.)
Soda PDF Online (full suite) – ideal for Mac users
Soda PDF Desktop (full suite) – Windows only
What is the difference between Soda PDF versions?
It all comes down to features and functionality.
For example, Soda PDF website-based functions are simple, one-off solutions to people searching for PDF document management.
They are free, but also limited to working with one file at a time. That's fine for quick solutions, but if you're looking to batch convert your documents into PDFs for example, you'll need the full software.
For users looking to do more, we offer both Soda PDF Online and Desktop version access with our competitive and cost-effective 360 plan. Learn more about our pricing.
Whether you're using Soda PDF Online or Desktop, both will need an account registration.
Creating a new Soda PDF account features a 7-day free trial, allowing you to process many Word documents at the same time while also allowing you to further modify your new PDF document.
With an active 7-day trial, you'll be able to get a taste for our powerful PDF tools and software solution with complete access to our entire suite of tools for one week.
Is Soda PDF really free if I want to convert to PDF?
Only the website-based functions like the PDF converter are, and they can do more than create a PDF document.
Note that you'll only be working with single Word documents (or single PDF documents) when you use these.
Remember, the desktop and online apps have a free trial as well. You can download and install them quickly and easily and work offline with the desktop version if you need to.
These will allow you to work with multiple files, so you can batch convert multiple Word files several converted PDF files.
Are there any other limitations to Soda PDF's free web-based functions?
As we've mentioned, with the free solutions on the Soda PDF website, you can only work with a single Word doc (or single PDF) at a time, but there's also a limit to the size of file you can work with.
These solutions just an easy way to do one-off tasks, like convert your Word document to PDF.
There's also a daily limit for using them. They are designed for people who just need a quick, free and easy way to manage their document or image, such as doing a quick Word document to PDF conversion task.
If you're looking for more power and functionality, you can always check out Soda PDF's full online version if you're on a Mac or PC, or download and install the Soda PDF desktop app if you're using Windows.
Is Soda PDF safe to use to convert Word documents to PDF?
The short answer is yes!
Soda PDF's website and PDF converter tool are used by millions of people every month, and they are 100% secure.
We use SSL encryption to ensure that your images and documents and data are not compromised, and remove all files after processing, including Word files.
After you select the Word file, upload it to the site and it's done converting, you can always save the PDF file to Google Drive if you'd like to have it easily available for sharing.
If you want to work offline to convert your Microsoft Word documents, you can always download the Soda PDF desktop version for Windows.
It allows you to do all your work offline, from convert word documents to merging and compressing PDFs and more.
Do more than just Word document to PDF convert: Manage documents with ease using Soda PDF!
With Word files and PDFs being so popular, it makes sense that you'll need to convert a Word document to PDF at some point.
If you need to convert your Microsoft Word documents (.doc or .docx file formats), use Soda PDF to create PDF files!
Whether you're looking to create, convert, merge, compress, secure, E-Sign or OCR PDF documents, get all the powerful tools you need to push your documents forward from anywhere using one simple document management solution: Soda PDF!
Review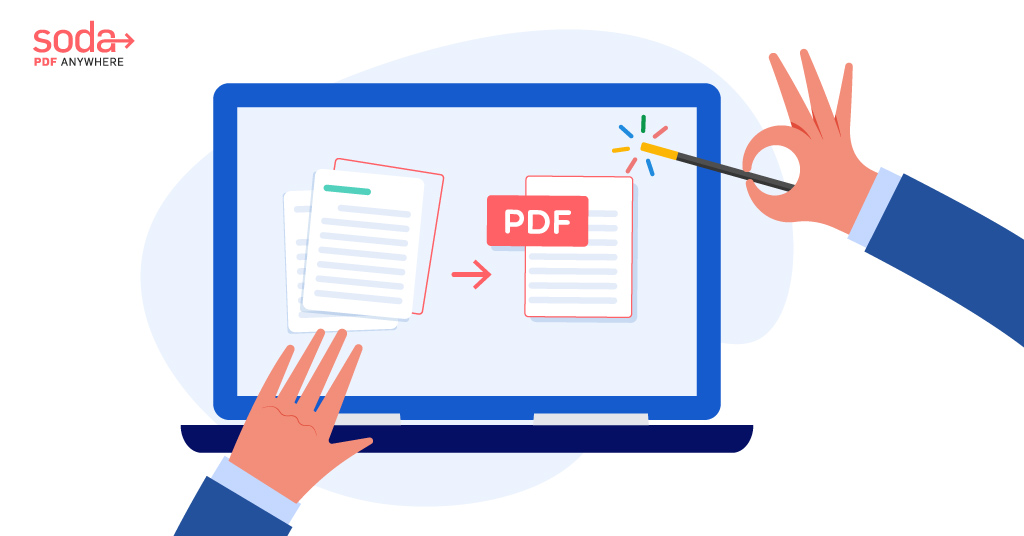 Blog Name
How to Convert Word to PDF
Description
Convert Word to PDF in seconds using Soda PDF's easy-to-use Word to PDF converter tool. Try our Word to PDF converter tool online or offline!
Author
Publisher Name
Publisher Logo